Seven weeks ago we embarked on a journey to find the best thing about living in our great city, Sydney! We started with 32 of some of our top picks, and then handed it over to, our loyal readers, to vote and decide the favourite!
Click here to view the full original draw!

With over 2,500 votes The Urban List-Off goes to show—we love you, Sydney!
As the 32 have been whittled down each week, it has been an intense and super close competition, with some of the duels decided by less than 10 votes. But there can only be one winner.
And that winner is… (drum roll, please!)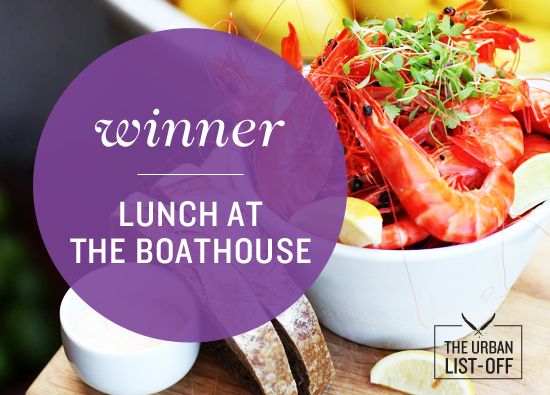 Here at TUL, we're nuts about all of the top 32 things. But we definitely do have a soft spot for the beautiful and iconic Sydney eatery, The Boathouse.
Here are some of the reason we lurrrrve The Boathouse:
You know those mornings when you wake up craving nothing but perfectly poached eggs? Here at TUL this is a daily occurrence! So when we scoured Sydney's café scene to hout out the eggy breakfast of our dreams, The Boathouse was a clear standout on our hit list of Sydney's best poached eggs.
The gluten-free and vegetarian amongst us have known about it for yonks, but most of Sydney has well and truly jumped on over to the proverbial bandwagon. Quinoa has now firmly cemented itself on Sydney's dining scene, and we can't get enough! The Boathouse's 'Green Salad' was a definite inclusion on our round up of the best quinoa dishes around town— created with sprouts, quinoa, baby cos, radicchio, seeds and an optional side of smoked salmon, it's a true 'wow' dish!
We know you Sydneysiders love a good bargain, and for all you thrifty folk heading out in Sydney doesn't have to include a heavy price tag. We put together a list of 50 fun, tasty and often free things to do in Sydney for less than a $50 note, and grabbing breakfast at The Boathouse was an obvious addition to the list!