We live in a world-class city, which means there's never a shortage of ways to fill your weekend. Still, the lure of a quick escape often beckons. Thankfully, the three-hour drive to Jervis Bay makes the south coast jewel a fab weekend getaway option.
Here's our advice on how to spend 48 magic hours in Jervis Bay.

6pm
Yes! You managed to score an early mark from work and have hot-tailed it down the Princes Highway to clock a reasonable arrival time. Accommodation options are plentiful and range from the luxurious tented digs of Paperbark Camp, to a simple but modern room at the Huskisson Hotel, more fondly known as the Husky pub. Alternatively, hit up one of the numerous local rental companies for a home away from home.
7pm
The three-hour drive from Sydney to Huskisson is an easy one—especially if you stop at the Famous Berry Donut Van en route—but that doesn't mean you haven't earned a beer. Refurbished only a few years ago, the Husky pub is a great Aussie watering hole and the deck, where most of the seating is located, offers tranquil water views. The sizable menu of pub faves will help you settle in for a laid back evening.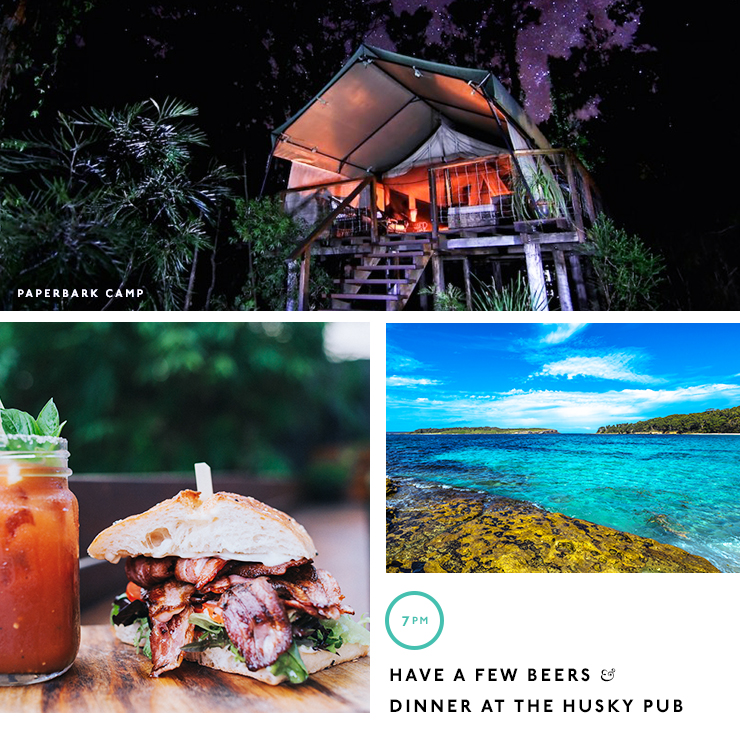 7am
Roll out of bed and on to a paddleboard. When in Rome, right? SUP'ing is a beautiful way to start your one full day in Jervis Bay, not to mention a great way to trick yourself into a full-body workout. Jervis Bay Stand Up Paddle can hook you up with gear.

9am
Breakfast beckons and if you're in Huskisson, 5 Little Pigs is a great choice among a handful of worthy contenders. If you're in the mood, a post-brekkie stroll down Owen Street could reap rewards. Check out Indigo Love Collectors, Babylon or Few and Far. In Vincentia, Albert N Miso is arguably you're only breakfast option, but it's also a good one (although the 'no skim milk' policy could irk some).
11am
Head to Booderee National Park and take your pick of the 10-plus glorious beaches on offer. You could spend an hour; a day or a week here, there is so much to do and it's one of the hands down most beautiful spots to do it all in.
1pm
When you're this close to the ocean, you've got to give the inhabitants a taste test, amitrite? Located at the Vincentia Marketplace, The Salty Crab isn't the most traditionally positioned fish and chip shop in Jervis Bay but it is the best. You can eat in, but given your surrounds, it's well worth the five-minute drive to enjoy your lunch by the water.
2pm
After lunch, you could do worse than to lie back right where you are and enjoy a few moments' peace before ducking home to wash the salt off you skin and prepare for twilight and beyond.
4pm
Its Happy Hour and Wild Ginger does it best with $10 selected cocktails and $5 Asahi and house wines. Selected bar food is also $10 and the pork belly betel leaf sure is a tasty little morsel. Serving creative Thai cuisine, Wild Ginger is one of Jervis Bay's better food options, but not our final pick with such limited time to play with. On that note…
7pm
Grab a cab and head to Paperbark Camp where The Gunyah Restaurant offers delicious five-star cuisine among the treetops. Do check the website or call ahead first as the restaurant is unfortunately sometimes closed to non-hotel guests.


7am
You've earned a sleep in, but do you even want one? Didn't think so. Freshen up with a morning dip at Huskisson Beach and don't be surprised if you're joined by a pod of friendly-finned locals.
9am
If sleep demands your early-morning dip becomes a not-so-early morning dip, try Blenheim Beach instead to avoid the wind. Draw straws and send the loser to Albert N Miso for coffees (no skim, obvs) and first-rate bacon and egg rolls. No need for everyone to leave the water.

12pm
Start with lunch at the Hyams Beach Café before taking a short stroll to the beach itself, world-famous for postcard-perfect white sand and spangled blue water. Feel the sand squeak between your toes (and take an obligatory Boomerang for your Instagram buds) as you find the ideal spot to lay your towel and settle in for an afternoon of beachside bliss.
Already planning your next trip? Check out our guide to Byron Bay.
Design credit: Gabrielle Stjernqvist