The Sydney CBD is becoming one of the city's most exciting foodie precincts.
After Prince of York, Ragazzi, Employees Only and Cantina OK! (to name a few) comes Kuro—a fancy new Japanese joint that'll take you from coffee or high-grade matcha tea, all the way through to a bamboo tonic cocktail, charred edamame and wagyu tartare.
Is Sydney about to embark on some kind of Japanese renaissance? If we're going to see more cocktails, flavour innovation and finesse like what's on offer at Kuro, we'd be pretty happy to hear it.
The Vibe
Housed within a heritage-listed hall on Kent Street, the open space has been divvied up into different moods: a brew bar for early morning risers, a bar to watch and sip Japanese mixology at its finest, a dining room for dinner à la carte, and Teramoto by Kuro—a 10-seat only degustation experience where you'll watch chef and co-owner Taka Teramoto (previously at Michelin-starred Restaurant Pages, Paris and Florilège, Tokyo; Waqu, Sydney) work his magic in the kitchen.
In the front window, a wide four-metre-long bench plays a double act. By day, it's where you'll find the brew bar's coffee machine, featuring speciality coffees and teas, matcha eclairs and Kuro's (bloody delicious) sesame lamingtons. In a feat of divine custom engineering, a flick of the switch sees the coffee machine sink beneath the concrete bench—so at night the bench becomes a communal dining table for up to 14.
Architects at Henderson & Co. worked alongside co-owners Teramoto and Alan Wong to create the space. Fifty-six bespoke American individually-lit oak portals frame the dining room, casting a soft glow throughout the restaurant.
Look out for sweet details that hero Japanese design thinking like Wabi-Sabi and Kintsugi: cracks in the polished concrete floor have been painted gold, a symbol of "mending" that celebrates imperfection.
The Food
The à la carte menu has been created by Head Chef Nobu Maruyama (Bar H) and Teramoto with innovation and sustainability front of mind. Elements of traditional Japanese cooking are made unique with Australian ingredients and fresh, innovative ideas.
Small dishes look like wagyu tartare, egg yolk and Jerusalem artichoke chips, Kuro fried chicken katsuobushi and charred edamame with hichimi salt.
Sides of meat and whole fish are aged in-house resulting in the 5+ marble score. If you're feeling super adventurous, there's also braised beef tongue stacked with pickled onion and miso red wine.
For dessert, you're in for aforementioned loaded matcha eclairs crème brûlée with matcha crumble and dates, or an impressive Daifuku mochi with coconut parfait, confit strawberry and desert lime.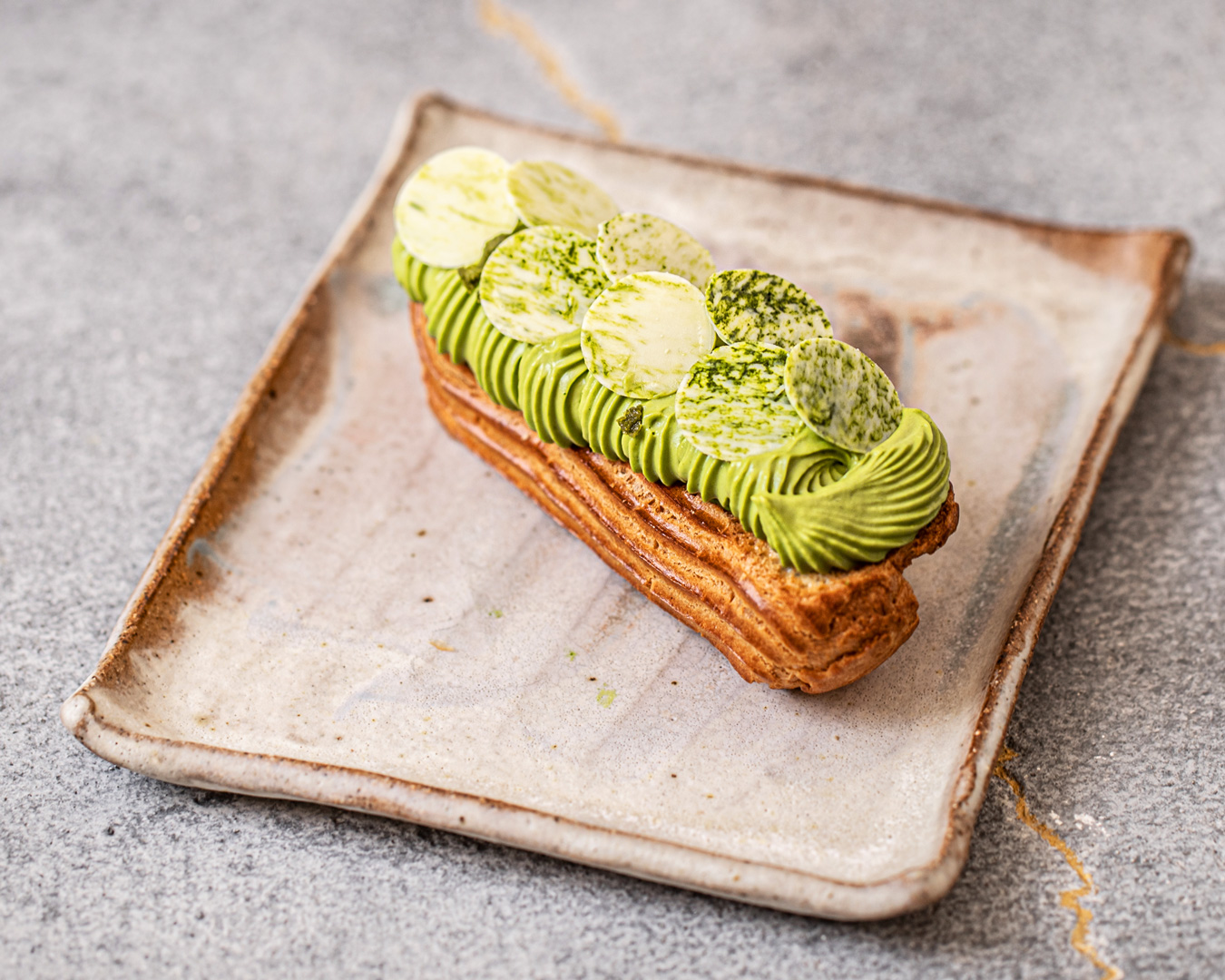 The Drinks
The curated 120-strong wine list focuses predominantly on boutique, Australian producers. You'll also find an epic selection of sake, umeshu and Japanese beers.
Kuro's cocktails are a must-do—master Japanese mixologists Fumiaki Michishita and Yasushiro Kawakubo are Tokyo natives with a flair for the theatrical. And like everything else at Kuro, cocktails are refined and innovative. Four pages cover Japanese inspiration, Australian inspiration, classics and mocktails.
The "Bamboo Tonic" features dry sherry, dry vermouth, charcoal powder and tonic water.
"Lava Flow of Mt. Fuji" is a matcha-flavoured tropical cocktail inspired by the classic pina colada, with smoky hues a nod to sleeping volcano Mt. Fuji. "Green Hour" is made with G'Vine Floraison gin, Absinthe, dry vermouth, granny smith and dill, and is served with apple-shaped ice and house-made champagne cordial.
In the mood for pasta? You'll want to check out this neighbourhood Italian with a former Tetsuya chef at the helm.
Image credit: Megann Evans