As if Sydney wasn't pretty enough already, a bunch of talented street artists went and made it even prettier with their creative masterpieces. From Newtown, through to Bondi Beach and out to Liverpool, Sydney is covered in glorious street art that makes us swoon.
In celebration of all that art, Bugaboo have partnered up with Niark1, a French graphic designer, illustrator and artist who creates ah-mazing surreal and psychedelic artworks, who has created some incredible canopies for their strollers. Babies are so cool these days.
To get in the spirit we've scoured the streets to bring you some of Sydney's best street art, so open Google Maps, plan the perfect route and seek out some eye candy, stat!
Jenny Munro Mural On Harbour Street
Chinatown
A striking mural of Aboriginal rights pioneer and elder, Jenny Munro, was erected last year and she's been looking over our city ever since. ICYMI, you're looking for the one with the reflection of a mountain sunrise painted in her eyes. It's located in the heart of the CBD, so you'll be spoilt for choice in terms of mid-walk sustenance. Our top recommendations are N2 Extreme Gelato, Mamak and all of the dumplings in Chinatown, because dumplings are always a good idea.
Bondi Sea Wall
Bondi Beach
The wall of murals on the boardwalk is a huge drawcard for Bondi Beach, you know, besides the popular coastal walk and the fact that it's one of Australia's most beautiful beaches. Local artists travel for two reasons—to make their mark on Bondi or spread a message. Our fave is the world map by Em Carey, followed closely by a dog on a surfboard and hot chips, for obvious reasons. We recommend that you grab a coffee from the window at Bondi Massive or Three Blue Ducks in Bronte before hitting the boardwalk—which is 100% Bugaboo friendly, BTW—to check out the art and try to spot someone from Bondi Rescue (never gets old).
Work-Shop
Redfern
Work-Shop in Redfern is a revolving door for street artists, both local and international, most recently pulling Nychos to paint one of his huge masterpieces. Work-Shop is also super conveniently located around the corner from Henry Lee's, who serve up a mean smashed avo and delicious coffee. All that leaves you to do is settle in for a tasty feed before strolling by to check out who's popped up on the walls of Work-Shop.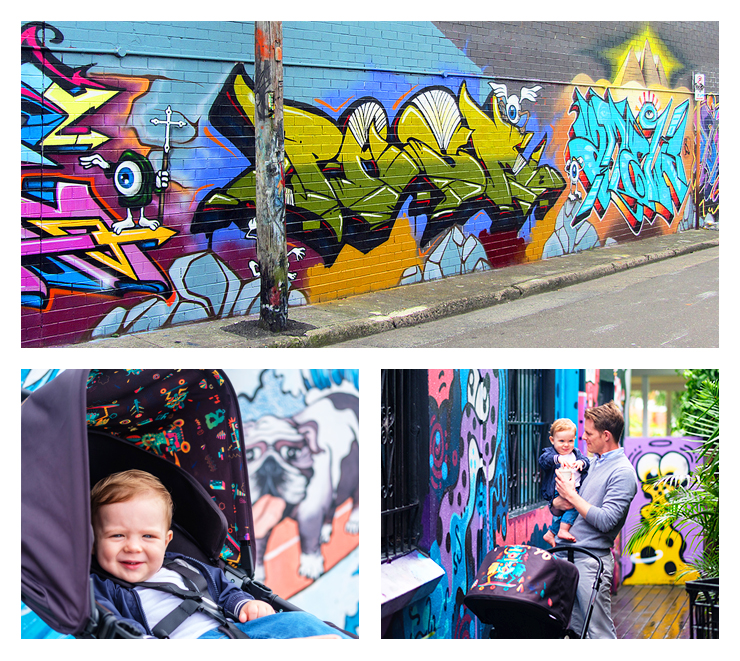 'I Have A Dream'
Newtown
It wouldn't be a list of Sydney's best street art without the 'I Have A Dream' Mural in Newtown. It has pride of place on King Street, and has done ever since it was painted by Juilee Pryor and Andrew Aiken one weekend in August 1991. Originally created to reflect the three main themes of the 20th century—gender equality, environmental activism and civil rights—this one is still relevant today and iconic for the Inner West area.
King Street
Newtown
To be honest, King Street and the streets surrounding are heaving with street art, and if you hit the street and start walking in any direction, you're likely to come across more than a few beauties. Your POA on King Street should involve shopping, coffee and sight seeing along the way.
Garçon At The Tramsheds
Harold Park
While putting together this list, it has become apparent that coffee and street art go hand-in-hand in Sydney (and we are totally okay with it). Street artist, MCRT (Maxim Chikanchi), painted a monochrome mural of a wise old man at Garçon in the Tramsheds in Harold Park, so for this one, you can wheel your Bugaboo right up to your table and settle in with an espresso—the ideal combination.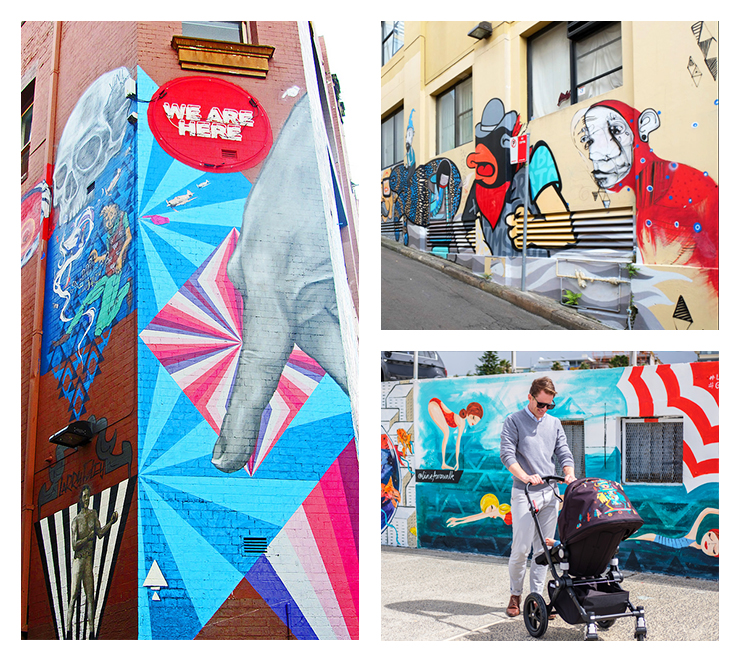 ​
Mays Lane Art Project
St Peters
Perhaps one of Sydney's most well known art projects, Mays Lane is sitting on the cusp of Erskineville and St Peters in Sydney's inner west. An incredibly popular legal paint wall, with an ever changing line up of local artists, cruise past Mays Lane after a cheeky pour over and slice of Nonie's fruit toast—yes, of Cornersmith gluten free bread infamy—from Sample Coffee Pro Shop.
Foley Street
Darlinghurst
One of Sydney's hidden street art treasure troves, Foley Street has a constantly changing kaleidoscope of paintings, featuring every single colour you can think of. It's also located a short stroll from one of our fave Italian restaurants, Casoni, so you should hit them up for some of the best pumpkin ravioli of your life while you're in the area (trust us).
Liverpool City Library
Liverpool
There's never a dull moment at the Liverpool City Library, which is home to the ultimate mash up of street art and baby friendly events. The exterior boasts murals paying homage to local artists and the melting pot of cultures in the area, while inside they are regularly hosting events for bub, like rhyme time, Duplo sessions and crafternoons.
Image credit: Newtown Grafitti, Benjamin Harris and Ben Garrett
Editor's note: This article is proudly sponsored by Bugaboo and endorsed by The Urban List. Thank you for supporting the sponsors who make The Urban List possible. Click here for more information on our editorial policy.