As the 26th of January fast approaches you may be finalising your plans. It could be sizzling on the beach, heating up the barbecue for a big grill and Triple J countdown, or inviting friends around for a day of watching your favourite tennis players sweat it out on the court.
If you do choose to take to the town, there are some amazing venues raising the flag and producing cracking Aussie dishes. From some of Sydney's best restaurants, bars and cafes, here are some true blue Aussie meals worth leaving your house for.
Watson's Bay Hotel: BBQ Plate
Watsons Bay
Hanging out in Watson's Bay Hotel on Australia Day will make you feel like a true blue Aussie. The hearty BBQ plate is the top pick of the day, made up of juicy lamp chops, rustic Aussie snag, BBQ prawns, baked potato with sour cream and corn on the cob. Accompanied by their cider cocktail The Orchid Rose, you won't be sorry you left the house.
The Boathouse: Oysters and Champagne
Palm Beach
Relax next to the water with the taste of the ocean in your mouth and an ice bucket of champagne. The selection of oysters at The Boathouse is impressive, with a variety from the South Coast, North Coast, South Australia and even Tasmania. Topping it off with champagne may seem decadent, but us Aussies can be a classy bunch.
The Greens: Fish & Chips
North Sydney
Watching the bowls while diving into a plate of The Greens' infamous fish and chips is sure to give you a tinge of Aussie pride. Grilled bream, baby gem, homemade tartar and the addition of crispy chips is how it's done! The Watermelon Kegger will make this dish that little bit extra summery.
Coogee Pavilion: Seafood Platter
Coogee
Grab your friends and head to Coogee Pavillion's new rooftop. Overlook the waves crashing into the shore and delve into the show-stopping seafood platter. The platter is more than generous, with 1/2 southern rock lobster, 1/2 mud crab, four cooked Morton Bay bugs, six cooked king prawns, two raw Hervey Bay scallops, two raw scampi, 12 freshly shucked oysters all at market price, it will make you proud to be Australian.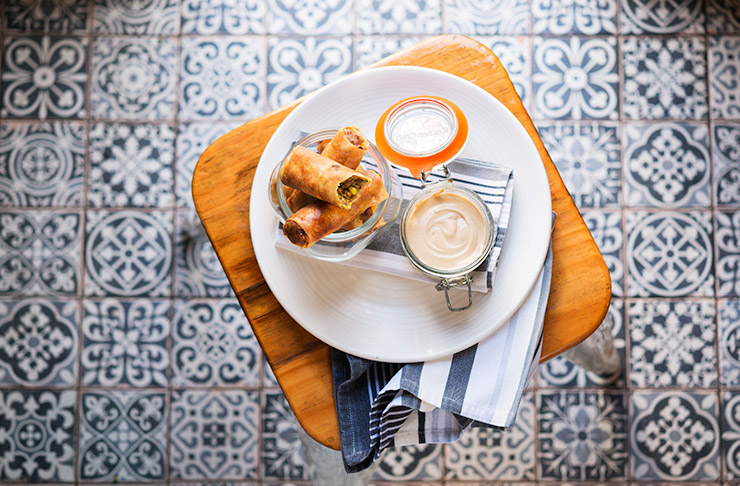 Kepos Street Kitchen: Lamb Cigars with Vegemite Dipping Sauce
Redfern
If you're a happy little Vegemite then you will love your savoury spread on just about anything. It is known internationally as one of our 'grossest' custom foods, but dagnammit, the world just doesn't understand us! For a real Aussie lunch on Australia Day, head to Kepos Street Kitchen and try their delicious lamb cigars with a winning tahini and vegemite dipping sauce.
The Glenmore: Parmi
The Rocks
It's known and loved by Australians everywhere as a staple pub meal: the satisfying chicken parmi. Enjoy a parmi with some cold beers at The Glenmore while helping them celebrate Australia Day with DJs, live performances and the Triple J countdown.
Eugene's: Meat Pie
Bronte
We couldn't do a list on best Aussie meals without including a meat pie! Eugene's is the pick for a hearty beef and mushroom pie made in-house. The crunchy pastry and top of the range beef is a winning combo.
Image credit: Tortadirose, Kepos Street Kitchen