We are SO damn excited to welcome Spring. Balmy weather, beach days and er, actual daylight during the days, come at me!
While these warmer days are still a while off, we thought we'd while away the not-so-warm ones dreaming of spring beauty trends to look forward to, specifically nail colours. Now, we don't like to blow our own trumpets, but our predictions are usually pretty bang on. So here we have it: our nail colour predictions for spring '16.
Spoiler: We may or may not—read: definitely did—ask a nail expert for her help. Read on as Amy from Nailed At Work dishes on this season's gotta-have-em nail shades, as we show you how to wear it.


#1 Grey
Amy says: 'It's spring, so it means we're not quite sun-kissed enough to pull off completely white nails, but a shade of light grey is the perfect spring replacement.'
How to wear it IRL: we definitely need a serious tan before we're brave to rock anything near a white nail but are loving the gorgeous shades of grey on the shelves right now.
We love: OPI, I cannoli wear and Smith & Cult, Subnormal
#2 Dusty Pink
Amy says: 'As sweet as the smell of spring flowers, and just as feminine, dusty pink nails can't help but make you feel happy. Super easy to match with the in-colours of the season for fashion; grey, maroon, white, khaki and never-out-of-style black.'
How to wear it IRL: Here at The Urban List we're definitely pink gals, so it's music to our ears that this shade will be in this spring. Mix this with our passion for dressing in head-to-toe black, we think this one's a winner.
We love: OPI, Tiramisu for two and Smith & Cult, Fauntleroy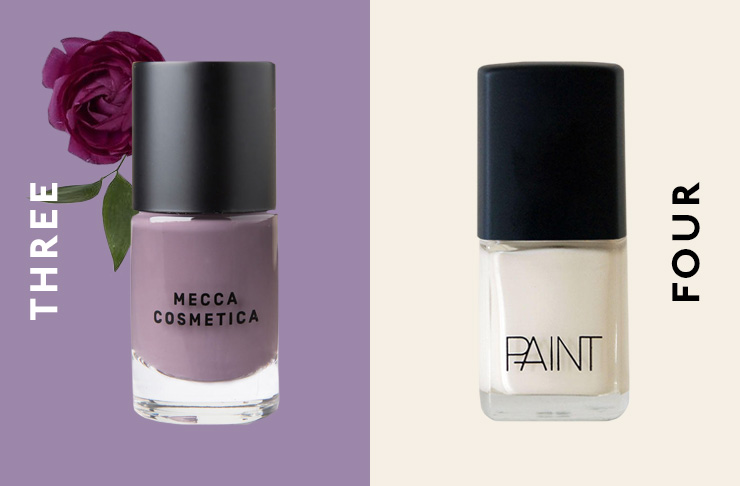 #3 Lilac
Amy says: 'Spring isn't spring without a splash of pastel and this year lilac is the pick; soft and feminine and gorgeous on nails both short and long.'
How to wear it IRL: We're going through a serious long-nail obsession and lilac works like a dream for these kind of talons. Is lilac the new pink? It may just be, friends. (We called it first.)
We love: Mecca Artistry Nail Polish in Cressida
#4 Cream
Amy says: 'As we get more and more excited for summer with every spring day, we're dreaming of beach days with ice-cream, warm evening swims and of course coconut everything. It's hard to get their delicious smell and versatility off our mind, so let them be your muse and get creamy nails.'
How to wear it IRL: It's like you're reading our minds, Amy. So long have we been drooling over the upcoming spring days when we can stuff our faces with ice creams and rock coconut everything. But back to nails, cream is the perfect subtle alternative to super white nails and will show off a tan nicely (once we finally have one).
We love: Paint Nail Laquer, Coconut Cream and Smith & Cult, Regret the Moon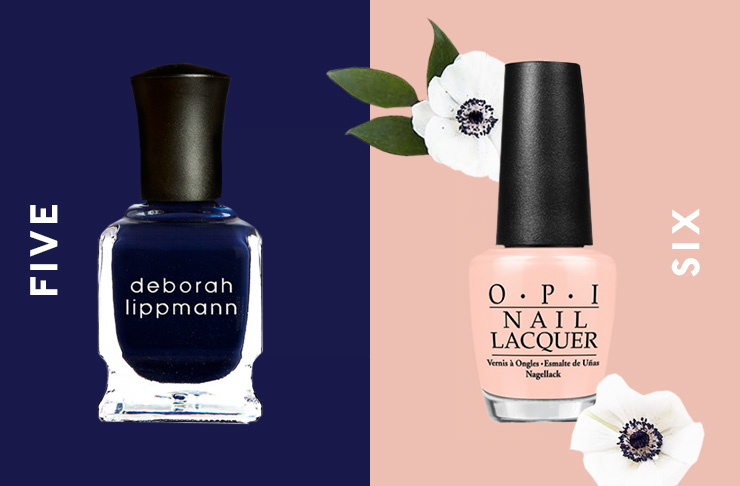 #5 Navy
Amy says: 'Navy is the perfect colour to ween yourself off the winter darks. For those who have been donning the deep purple, red wine and nearly-black hues so many of us a drawn to in winter, switching to navy is a gradual and natural transition to a sunnier time.'
How to wear it IRL: Free reign to go goth on our fingertips has been pretty much the only good thing about winter, so we were getting slightly anxious about how we were going to ditch them once spring rolled around. Lucky for us, now we don't have to go cold turkey. Navy looks equally chic with pale winter skin or a fresh tan.
We love: Deborah Lippman, Rolling in the Deep and Smith & Cult, King & Thieves
#6 Peach
Amy says: "Those who have been indulging in the mega-phenomenon of nude nails this past autumn and winter will be switching it up for something a little more cheery. You'll feel like a total peach, too."
How to wear it IRL: Nude nails are the ultimate in sophistication so we're pretty pleased to hear that there's an updated way to rock this look this spring. Peach is pretty, but can come off as super girls so pare your peach nails back with muted neutrals and some blue denim.
We love: The Good Polish, Sofia
For more beauty tips and tricks head here.
---
Image Credit: Gabrielle Stjernqvist