Oh Messina, what did we do to deserve such utter care, love and devotion from you? Next Friday and Saturday, Messina will be holding a Wonderbao pop-up at their Rosebery HQ (in their jazzed up carpark, which will only add to the street food vibes).
If you're unfamiliar with Melbourne fave Wonderbao, then let us enlighten you. Inspired by his Chinese upbringing, Andrew Wong started Wonderbao to share his heritage and bring delicious steamed buns from the streets of Asia to the laneways of Melbourne (and now to a carpark in Sydney). You can expect buns with authentic Chinese flavours and a little something extra on the side.
The menu is pretty rad, with seemingly one million options (slight exaggeration) to fill your bellies. There will be gua bao buns (pork belly, fried chicken and fried tofu), traditional baos (BBQ pork bun, chicken, tofu and veggie) as well as kimchi loaded potato gems and dessert by Messina, obviously. Created especially for the pop-up, Messina have designed an out of control dessert of deep fried ice cream filled with 'dan ta' (egg custard tart with flaky pastry) gelato, served with mango pudding and passionfruit caramel.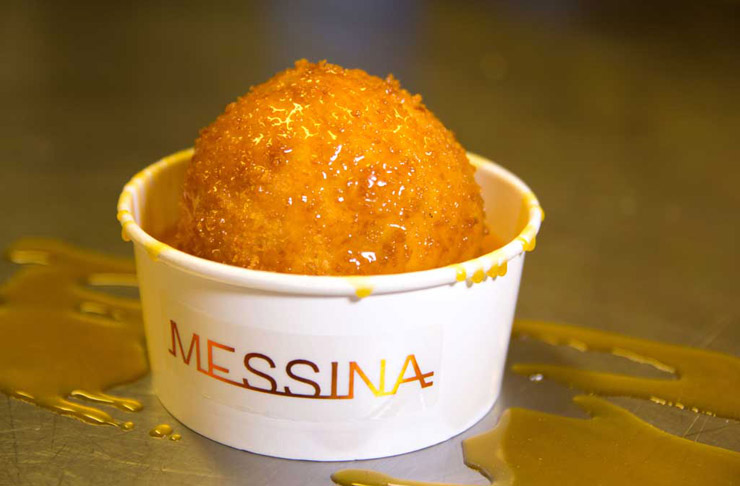 This is seriously the gift that keeps on giving, because P.S. Soda will be supplying their signature, handmade sodas in blackstrap ginger and grapefruit and honey and Mark Crotti will be looping his pedal throughout the event.
They have learnt their lesson after last month's Huxtaburger pop up, which sold out in record time and, this time around, they'll be fully prepped and ready to deliver the goods over two days.
You can find all of the details here.
The details
What: Messina Eats Wonderbao
When: Friday 29th and Saturday 30th July from 12pm until late (or until sold out)
Where: Messina HQ – 58 Mentmore Avenue, Rosebery
What to know what else is happening in Sydney? Head here.
---
Image credit: Gelato Messina