Well hello there, October! The warmer weather is bringing about many a fantastic food event in Sydney. So swap those trackpants for eating pants and check out these food events you should be booking at some of Sydney's best restaurants.
Alpha Restaurant | CBD
Haverick Meats have joined forces with Alpha Restaurant for a finger-licking, educational Meat Lovers lunch. For what will be a one-off dining experience of legendary proportions, we advise you pencil October 25th into your calendar immediately. Alpha's head chef, Peter Conistis, will take guests through an enticing menu, highlighting the flavours of Greece, Turkey and Italy. Each dish will showcase Haverick Meats' signature cuts, with great insight being given by their very own Peter Andrews.With wine matching available on the day, this is one food event in Sydney that's not to be missed.

Date: October 25th
Book now: 02 9098 1111
Queenies' Stoner Dinner | Surry Hills
For those of us who unashamedly enjoy the go-to goodness of the golden arches, this is the dining experience for you. Holding a place in our hearts always, McDonalds is the muse for the second annual Queenies Stoner Dinner. You're in for a Jamaican-themed seven-course treat complete with an unimaginable double dessert of Fried Guava Pie and French Fries Ice-cream. To reference the great Napolean Dynamite, all of your wildest dreams will come true. You had us at smoked chicken nuggets with "all the sauces".

Date: October 16th
Book now here.
Night Noodle Market | Hyde Park
Good Food Month brings a range of mouth-watering images to mind, but none worth looking forward to more than the annual Night Noodle Markets. Throw in all the colours, sounds and smells of an authentic Asian market, and add the excitement and vibe of an outdoor festival; and you've got yourself one helluva night out. You will be able to feast on anything from traditional Thai desserts to Peking duck pancakes and Shanghai-style dumplings.

Date: From October 10th – 26th
6 Nations Wine Challenge Event | Pyrmont
Celebrating the diversity of wine and food from around the world, where else can you experience the finest delicacies of adjacent countries and continents in one place? You're in for a real treat, featuring Argentinean BBQ'd beef, bagels, South African Bilton, Chilean empanadas, Australian lamingtons, local bread, chocolate, coffee and much, much more. Complementing the cuisine are 600 wines to work through, and what better location than the beautiful Doltone House on the water in Pyrmont!

Date: October 9th
Buy tickets here.
'Orchestration' - A Rare Collaborative Feast | Erskineville
What do you get when you combine the Sydney Symphony Orchestra Vanguard, a gluttonous feast prepared by Food Rascal Chef David O'Brien, the locally made goodness of Young Henry's and an industrial warehouse? A rare collaborative feast called Orchestration, that's what. October 5th will see this decadent event take place in the heart of Sydney's Inner West. These four businesses have come together to create this unique experience, with the aim of making it a night like no other. Reservations are essential.

Date: October 5th
Buy tickets here.
Sips I The City At Orange Wine Festival | Orange
Okay, this isn't in October, BUT if you want to make a weekend of it we suggest you book this one in advance. With spring well and truly in the air, what better way to enjoy the fresh blooms of Orange than searching for the best wine and food venues around the city on foot? To ensure no detail of Orange's rich history is missed, a historian will accompany each tour, pointing out the cultural significance of landmarks and heritage buildings around town. Specialties you will get a taste of include Port Terrine, Chipotle beef soft shell tacos, chilli squid as well as Colombian meatballs.

Date: November 1st
Buy tickets here.
Oz Harvest Table For 10
Come and help Oz Harvest celebrate ten wonderful years by joining one of their Table for Ten dinners. Bring a date or a group of friends and discover Oz Harvest's passion for food rescue and providing meals for those who need them most. You will be treated to an incredible three-course meal prepared by a surprise top chef each night, boasting wines to match.

Date: October 13th – 17th and 20th – 24th
Buy tickets here.
Outstanding On The Pier
Held as part of the prestigious NSW Wine Awards, Outstanding on the Pier uniquely gives wine enthusiasts the opportunity to rub shoulders with the best in the business while sipping on the top 100 wines our state has to offer. Held at Pier 2 in Walsh Bay, complementing the states finest wine will be a selection of gourmet regional produce with four hours of tasting potential. This ultimate food and wine event is one for the to-do list.

Date: October 30th
Buy tickets here.
Barossa Homestead Pops Up In Sydney
Sydney's wine and food enthusiasts will be pleased to know that the first-ever Barossa Homestead pop up is calling Paddington home. Each room of the intimate residence on Duxford Street will be transformed, showcasing food, wine and produce of the Barossa Valley. Visitors will be able to mingle with an array of passionate South Australian locals behind familiar brands and labels, with the aim of perhaps inspiring a weekend trip away.

Date: October 8th – 12th
Find out more here.
Popolo Toscana Regional Dinner
Take your tastebuds on a trip to Tuscany with Popolo's regular regional dinners. On the 7th, 8th and 9th October, co-owners Flavio Carnevale and Fabio Dore will give you a delicious insight into what they like to eat and drink when in Tuscany. For $75 diners will be treated to a beautiful 4 course meal with matching cocktails, beers and wines. Reservations are essential.

Date: October 7th, 8th and 9th
Book now: http://www.popolo.com.au/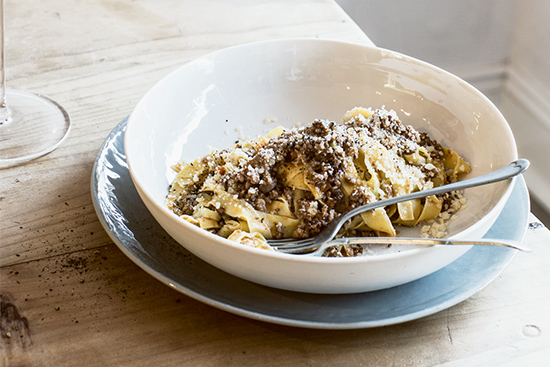 Image credit: Barossa Homestead