Sydney is a tricky city to navigate and it's near impossible to stumble upon a hidden gem accidentally—basically, if you don't know where the best restaurants and bars are, then you've got no hope of finding them. That's where we come in, obviously. We hate the thought of you wasting even one precious minute of your well-earned weekend, because in the eastern suburbs of Sydney it's all about good surf, good cocktails and even better food.
We've teamed up with Audi Centre Sydney to celebrate the launch of their brand new model—the Q2—to sort your entire weekend, from Friday afternoon right through to Sunday evening, because no one should have a basic weekend.


3PM
Obviously, you'll want to start your weekend on fleek—by clocking off work early and heading for some you time in your slick Audi Q2. Men, head to Jack Rabbit Slims Barbershop in Potts Point for a fresh fade, shave, or beard trim. Ladies, you'll want to get your nails done in preparation for a delicious weekend and The Parlour Room in Clovelly has got your back—marble mani, anyone? We also think you'd be crazy to not fully commit to the pamper cause by designing your own personalised lipstick at Lip Lab in Paddington, because we don't do pampering by halves, people.
7PM
To wind your week down in the best way possible, head to Charlie Parker's—a basement speakeasy bar that serves up cocktails that are anything but classic. Our fave is the leaf and flower spritz of Wattleseed tea, French vermouth and citrus skin soda. Once you've thoroughly hydrated, head back upstairs to Fred's, where feasting on sustainably sourced, true blue Australian fare, like Crack Willow Farm pork cutlet, fresh corn polenta, blackberries and bay leaf, is the norm.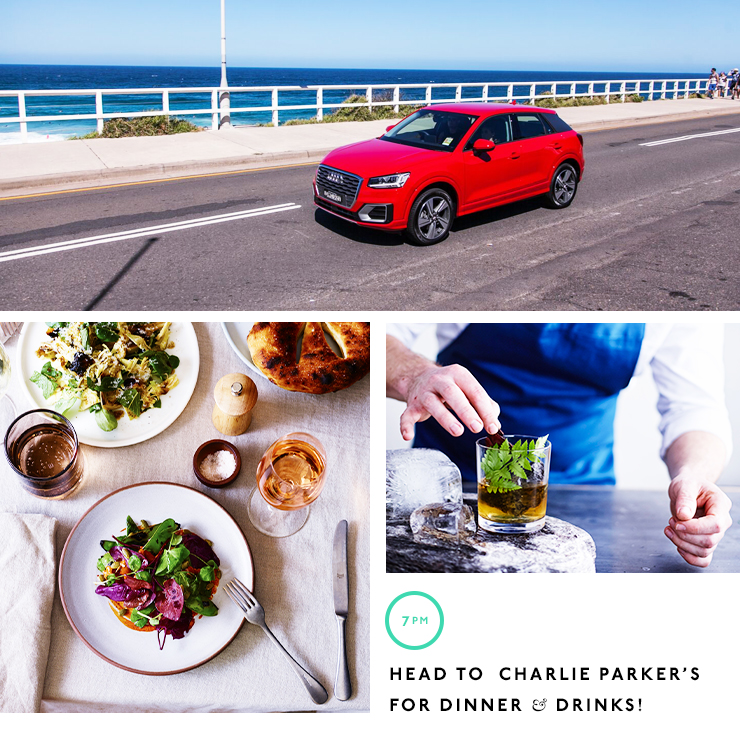 6AM
Rise and shine! Everything you've ever heard about the early bird is 100% true. So pack the surfboard and throw your bag in the Q2—it's time for your first surf of the weekend. After a looooong week at work, you've earned it. Enjoy, guys.

10AM
Feels great doesn't? And now that you've worked up quite the appetite, it's off for brunch at institutional east Sydney café, Ruby's Diner and you'll obviously want to travel in style, in your brand new Audi Q2. They're known for serving up luxe breakfast and lunch options, like the citrus cured trout with cabbage, fennel and kale kraut with labne on house-made seeded bread (add poached eggs, we dare you) and the summer green bibimbap bowl. This bowl is piled with cabbage-cucumber pickle, avocado, broccolini and mixed sprouted chickpeas and mung beans with a tamari-sesame dressing on brown rice pilaf and topped with a soft boiled egg. That sounds like a mouthful—literally—but we're firm believers that when it comes to salads; the more ingredients, the better.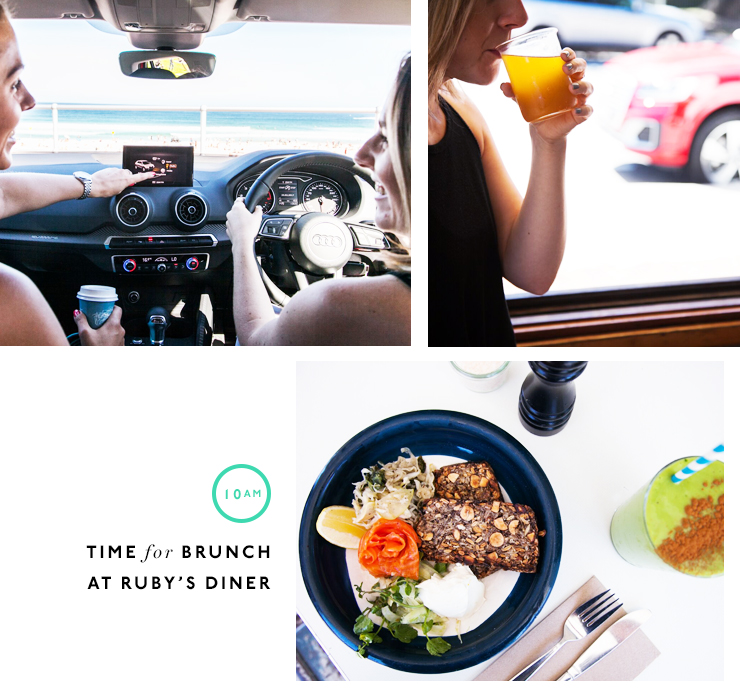 3PM
When the sun is shining, the beach is packed and you've earned a little bit of R&R, Orchard Street Elixir Bar in Bondi is your go-to. By 3pm, it'll be drenched in sunlight, so you should park it on their bench out front (it's big enough to lay out on), order yourself a raw treat (or two) and grab a schooner of Ballsy kombucha (they serve it on tap).
7PM
Once a stop for the Bondi Tram—shout out to anyone who knew Bondi ever had a tram—head to Corner House Bondi to continue your tour of every delicious thing to eat and drink in Sydney's east. Your night at Corner House Bondi will look a little something like this—the selection of Australian charcuterie to start, followed by the crowded house pizza for main, we're talking a four-in-one pizza (goodbye, food envy), and the affogato espresso martini for dessert. The bar is amply stocked in the wine department—there are 11 rosé options alone—including organic and biodynamic drops, so we're pretty confident that you'll leave here satisfied.


9AM
It's no secret that Sydney loves their brunch, but in The East, it's basically a religion. Any true Sydneysider knows that the secret to a kick arse brekky is finding the perfect balance between brilliant coffee, and food that's a little bit naughty, but masquerading (convincingly) as health food. Morris, in Paddington, is known for their brunch options, ranging from loaded fruit toast, to fresh bircher muesli and an impressive croque madame. Our top pick is the latter, because the gooey cheese, crusty bread and ham combo, topped with a crispy fried egg is damn near impossible to resist.
12PM
Popular swimming spot, Red Leaf Pool, is the ideal situation for a warm Sunday afternoon. This harbour pool is well protected and because it's not an ocean beach, there are no intense waves (win) and it's hidden from the hoards of tourists that invade The East (double win). If you've got your pooch in tow, then cruise around to Rose Bay Dog Beach in your Audi Q2 instead, so your best mate can go for a Sunday afternoon dip with you.
4PM
Cap off your 48 hours in Sydney's East at the most iconic Bondi locale—Bondi Icebergs for a relaxing yin yoga session. Yoga by the Sea runs classes daily in Bondi, Tamarama and Bronte, but the classes at Icebergs are no doubt the most quintessentially Sydney yoga classes in town. We recommend that you keep the blissed out vibes going for the small amount of remaining weekend (why are they only 48 hours?) with a mini tech detox after class because you'll be all kinds of relaxed.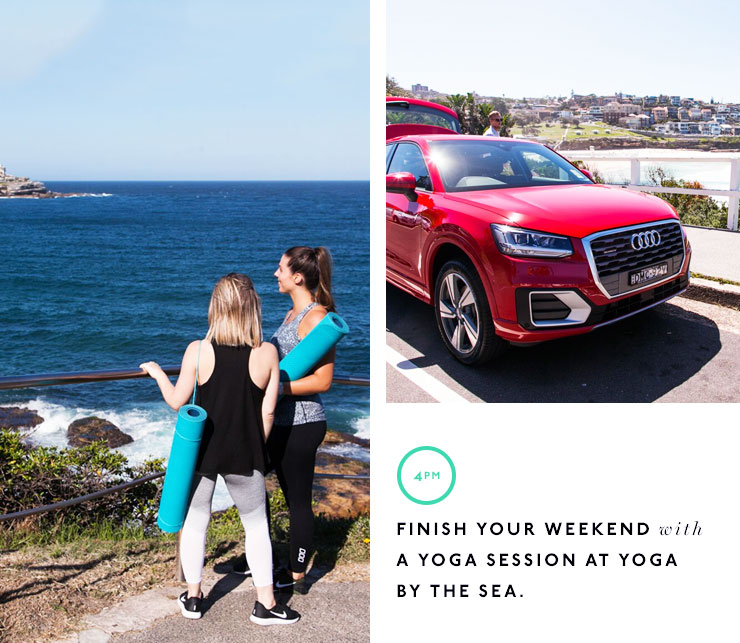 Editor's note: This article is proudly sponsored by Audi Centre Sydney and endorsed by The Urban List. Thank you for supporting the sponsors who make The Urban List possible. Click here for more information on our editorial policy.
Ruby's Diner, Orchard Street Elixir Bar | Image credit: Federica Portentoso