Oh Grounds, stahp! You're killing us. Just when we thought they'd reached the peak of their aesthetic, secret garden, fresh juice, sustainable design labyrinth, floral bouquet slaying, burgerliciousness (yes, that's a word), imported exotic craft beer dominance, they've gone and pulled a fast one on us.
Still your beating hearts, close those wide incredulous eyes and breathe deeply, for The Grounds Of Alexandria have announced that they will play the game, they will win the game and have us all in the palm of their hands with three new eateries.
That is correctomundo dear brethren, along with all those meandering vines there will be a new Pizza Silo, Soda Barn and BBQ to add to your weekend hit list. While ably waltzing through the picturesque grounds you'll be able to sample, from dawn till dusk, smoky brekkie rolls with maple roasted bacon and free range eggs at the BBQ, down (you elegant thing, you) the fresh passionfruit, strawberry or coco-lime daiquiris at the Soda Barn or make all your troubles flit away by nomming The Grounds' house-made sausage and garden thyme pizza with crusted thyme, sesame seeds and mixed herbs.
There's more and, if your sugar levels are already reaching critical, you go right on reading because this could only be for you. We humbly announce The Grounds' sure to be signature drink Unicorn Soda. Here's the sitch: strawberry and rainbow ice cream with whipped cream, melted chocolate, sprinkles, cotton candy, meringue and never to be forgotten, a lollipop.
Oh yeah, and these are just the little extras on top of the craft beers, smoothies, burgers, photogenic archway and, of course, Kevin Bacon, the resident pig. Ch-yea, we'll meet you there in five.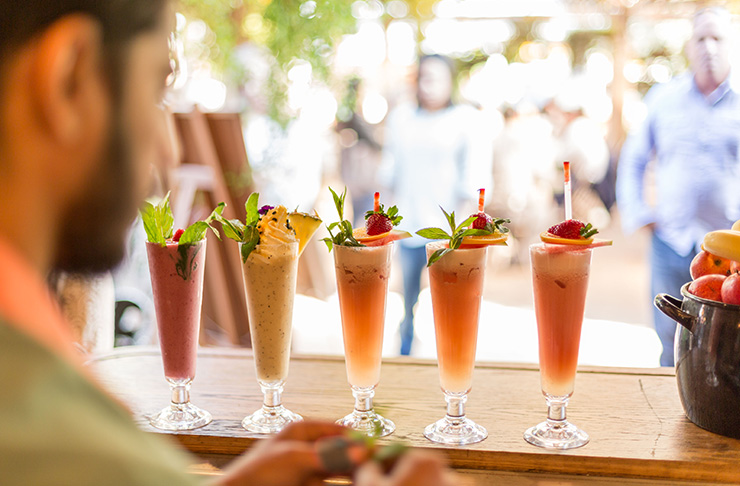 Looking for more delicious eats in Sydney? Check out our Directory.
---
Image credit: The Grounds Of Alexandria