Are you in a 90s R&B video (we're thinking Michael and Janet Jackson's Scream here), or some sort of futuristic fashion laboratory from the set of a yet-to-be-announced Zoolander 3 movie?
Actually, it's the top floor of an old paint factory in St Peters and the home of what might be Sydney's coolest and most Instagrammable hair salon: Usfin Atelier.
The salon's seriously chic minimalist interior is the work of George Livissianis, the designer behind a smattering of our city's most beautiful restaurants (Chin Chin and Cho Cho San, to name just two). As well as being really, really, ridiculously good-looking—your hair will be safe in the hands of Usfin Atelier's seriously talented creative director Daniel Jianning Liu and his team of pro haircutters, colourists, and stylists.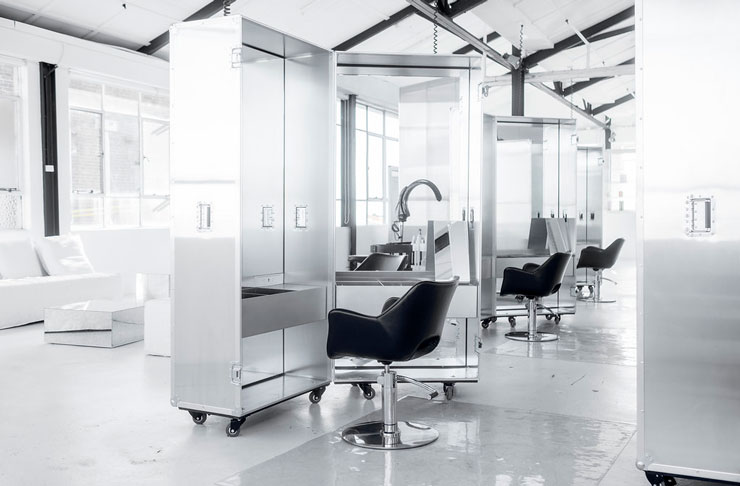 Usfin Atelier is housed within Precinct 75—the same spot you'll find Willie the Boatman Brewery and Sample Coffee and a bunch of other cool artisans, artists, and designers. Enter through the back, up a fire escape, through a corridor or two, and up a set of brilliant white stairs flooded with sunny daylight. The top floor salon is distinctly monochrome—everything is white and silver with accents of black and clear plastic.
Cutting stations are, well, pretty damn cutting edge. They're custom-made, giant-sized aluminium beauty cases, which are totally mobile and can be closed up and packed away to make way for hair events, seminars, and artist collabs. Each glossy styling pod offers a more intimate experience too, so you can sit back and enjoy your styling time in peace, or share your juiciest gossip and life woes with your stylist in seclusion.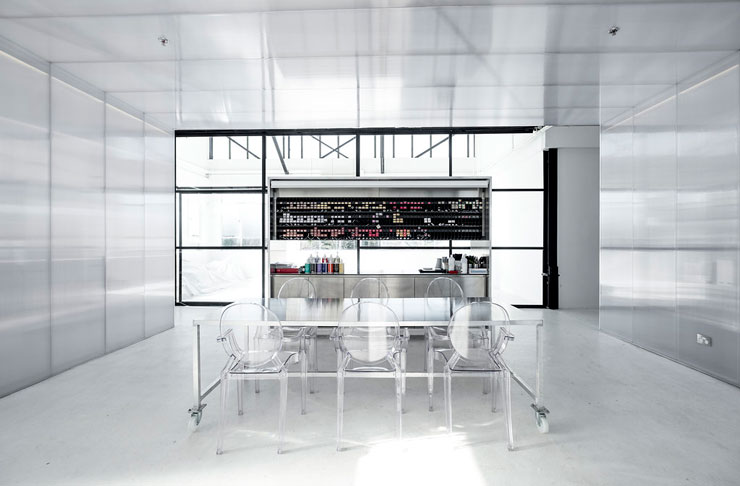 Wash areas are concealed by walls of frosted plastic and feature super comfortable reclining chairs (no neck aches here), and optional blankets to keep you warm too. Couches cloaked in white drop sheets match the salon's warehouse slash laboratory aesthetic, while a wall of hair colour speaks volumes about the salon's knack for everything from subtle brunette, to perfect blonde, and that edgy smokey-purple we love but are way too scared to try.
Oh, and that giant foot sculpture? It's actually a lounge, and an iconic design by Gaetano Pesce created for B&B Italia back in 1969. There is also a set of absolutely mesmerising 'glass fountains' designed by Tokujin Yoshioka for Glas Italia. So pretty.
As far as the salon experience goes, Daniel and his dream team of hair artists are reinventing the model and offering something pretty unique for Sydney. Cut and colour can be a chore for some of us, and a habitual indulgence for others. Wherever you're at, Usfin Atelier is the big, brave, bold, and cool haven your hair needs.
In need of a little beauty R&R? Check out Sydney's best days spas right here.
Image credit: Bob Barrett.