Vivid is back, baby. Sydney's festival of lights, music, and ideas has dropped its full program for 2022 and, boy, does it deliver—even after years of anticipation.
After a two-year hiatus, Vivid Sydney is set to descend upon the harbour city from Friday 27 May till Saturday 18 June. Making up for lost time and reigniting the city, Vivid's program has a ton of festival firsts on the bill, such as the extended continuous Light Walk, free tunes in Central Station, pop-up gigs in gardens, intimate supper clubs, and even a Vivid Dinner. And that's on top of its usual luminous projections, concerts, open-air raves, thought-provoking panels, and late-night parties. So strap in Sydney, we're in for a wild ride.
Here are the top highlights of Vivid Sydney's 2022 program.
Vivid Lights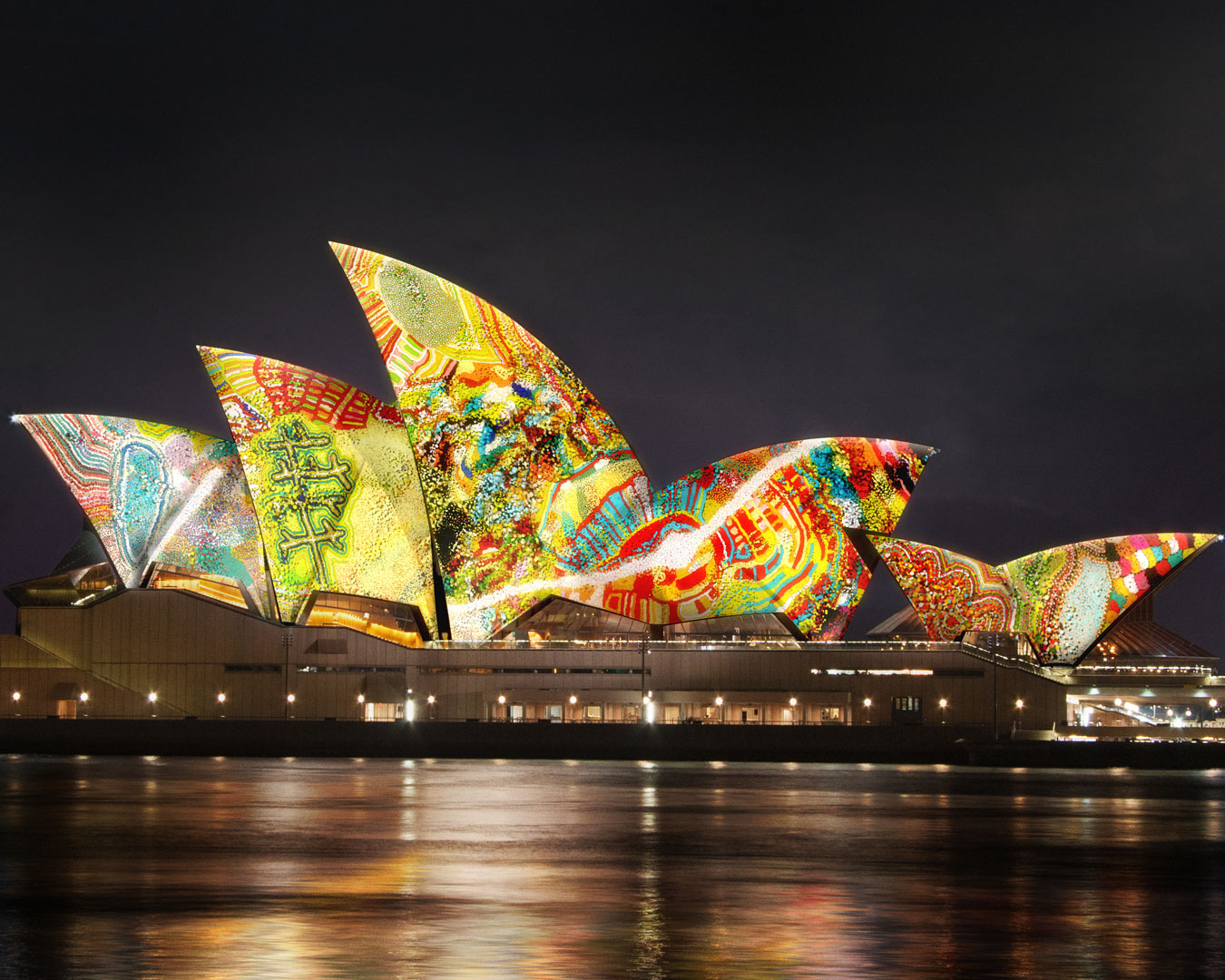 Vivid Sydney hits a lot of high notes, but the dazzling light projections are what see people—tourists and Sydneysiders alike—flock to the foreshore. This year, a whopping 11 Sydney CBD locations are lighting up with a kaleidoscopic display of lasers, art projections, and lights.
Most notably, Vivid Sydney will launch with First Light: a Welcome to Country and celebration of First Nations people, culture, and Country. It's happening at 5.40pm on Vivid's opening night, 27 May, at Campbells Cove, and will feature Gadigal storytelling projections on a pylon of Sydney Harbour Bridge.
In more good news, the renowned Light Walk has been extended and will now stretch 8km, from Sydney Opera House all the way to Central Station. The walk features the works of 114 light artists and 62 collaborators, including street installations, large-scale immersive experiences, and 200 LED sculptural birds as part of the Future Natives installation.
One of Vivid's biggest drawcards is the Opera House projections, so you best bet that this year's luminous works are going to live up to the hype. Lighting up the sails will be Yarrkalpa – Hunting Ground, 2021 by the Pilbara's Martu Artists and Sydney-based creative tech company Curiious. The epic digital artwork will illuminate the sails with vibrant scapes, energy, and stories of the Martu people. Not only will the work light up the skies, but it'll also be soundtracked by First Nations electronic duo Electric Fields and Martu Artists. Over on the Forecourt and Monumental Steps, you'll be dazzled by Sydney-based artists Lauren Brincat's Tutti Presto fff—a half-hour live sculptural work involving sound, performance, and choreography in a reimaging of the iconic Aussie landmark.
An epic light show dubbed Our Connected City will light up the skyline with hundreds of searchlights across numerous skyscrapers, the harbour, and the Cahill Expressway, plus more colourful lights on the Harbour Bridge and Opera House forecourt, connecting the landmarks to the kaleidoscopic spectacle. Sydney's tallest building, Crown Sydney, will shine a whopping 36 beams from its rooftop and thousands of individual light sources are set to reflect on the harbour.
More lights in the big city include Aussie artist Helen Eager's striking eight-minute moving projection New York Sunday on the MCA, soundtracked by Paul Mac; an immersive lit-up tunnel at Tumbalong Park called Macula; Australia's largest ever liquid and light show in Darling Harbour; and a 100m floating Light Walk at Walsh Bay as part of Ephemeral Oceanic, which features 150 gigantic bubble-like spheres.
Across the harbour, you'll find Taronga Zoo lit up with 14 giant luminous animal lanterns, immersive installations, and jaw-dropping projections for Wild Lights at Taronga. Running across the entire duration of Vivid, Wild Lights will bathe the harbourside zoo in vibrant colours from 5.30 – 9.30pm every night, so you can explore the grounds after dark and get up close and personal with some of the nocturnal critters.
Vivid LIVE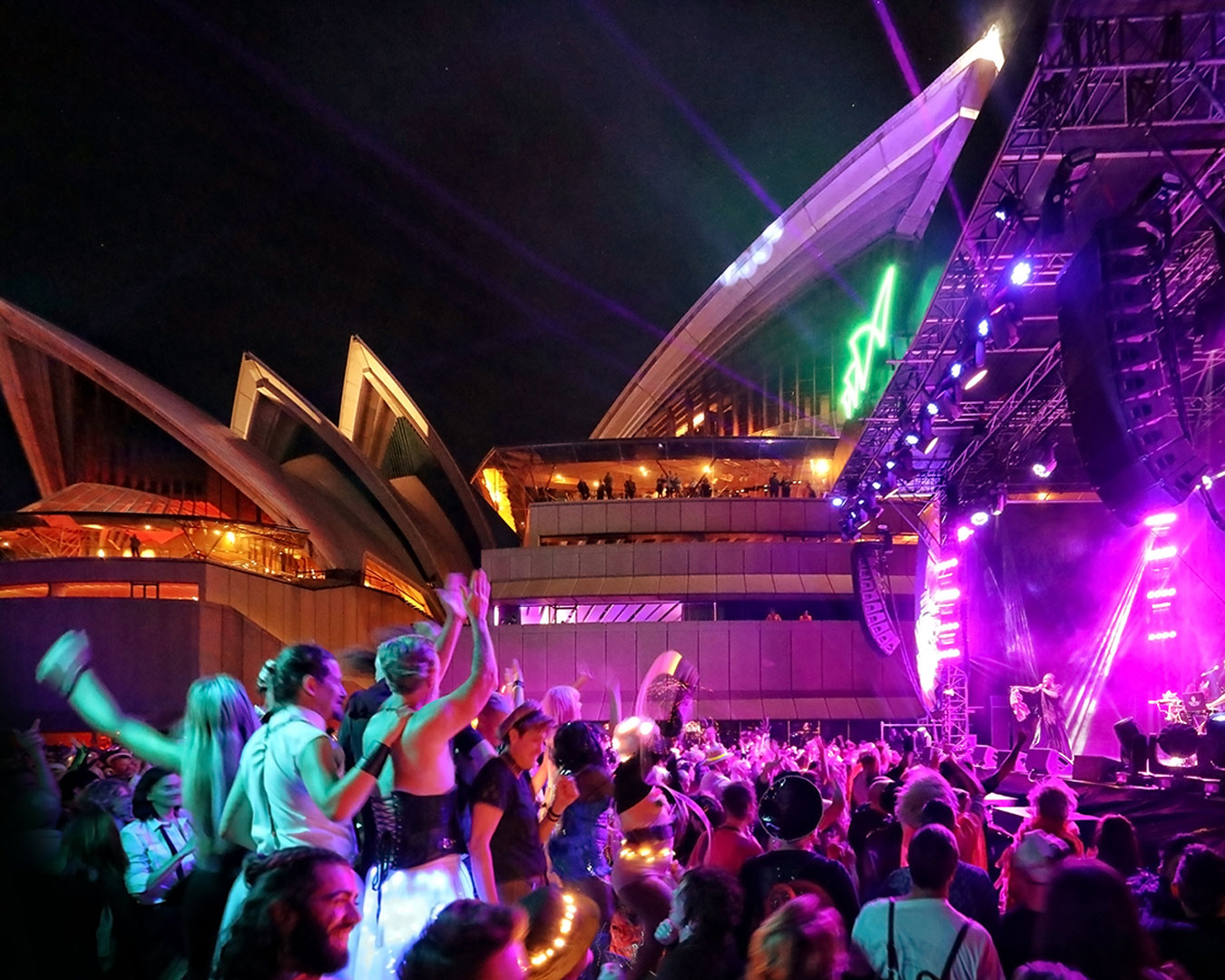 Now onto the gigs—a lot of which are taking place at Sydney Opera House. First up, the House is bringing back its concerts and parties held on the Northern Boardwalk, so you can dance under the stars while overlooking the harbour and the spectacular Vivid lights. Particular highlights include Aussie great Paul Kelly performing a one-off series with Thelma Plum; Hermitude firing up the boardwalk with their high-octane tunes; the always-fun Club Kooky with LGBTQIA+ anthems; and local music collective Astral People throwing a 10+1 birthday party with a lineup of local acts, including Hiatus Kaiyote, Briggs, Mildlife, BARKAA, Munasib, and Youngn Lipz, alongside UK jazz-funk drummer Yussef Dayes and UK rapper Jay1.
Inside the Opera House sails, you can catch a world premiere show from German producer Nils Frahm as well as Sampa The Great's much-anticipated show An Afro Future, which is finally hitting Sydney after last year's Vivid Sydney cancellation. Other highlights include hip-hop powerhouse Tkay Maidza with Maina Doe; a jazzy improvisational performance by Tangents and GODTET; a fiery set from all-female indie band The Buoys; Anangu/Torres Strait Islander woman and ARIA Award-winning artist Miiesha; Korean-Australian hip-hop outfit 1300; and soulful Ghanian-American artist Moses Sumney who's bringing his soulful tunes to the House for one night only.
One of our biggest picks, though, is In The Mood — A Love Letter To Wong Kar-Wai & Hong Kong by Rainbow Chan, Eugene Choi, and Marcus Whale, which is an ode to the Cantonese director's film In The Mood For Love and features 60s-style costumes, sax-drenched versions of the film's soundtrack, and elements of the award-winning film refracted onto the stage.
Want to cut shapes on the dance floor after a couple of couch years? Then, you'll want to check out the Opera House's series of studio parties, featuring DJs such as Catalan electro producer John Talabot, Adi Toohey, Touch Sensitive, Ayebatonye, Simon Caldwell, Wax'o Paradiso, and more.
Sydney Opera House x Vivid LIVE presale tickets open at 12pm AEDT on Thursday 17 March—sign up over here. Otherwise, general public tickets go on sale at 9am AEDT on Monday 21 March. So, have a browse of the gigs over here and get ready to nab tickets when they go on sale.
Outside of the Opera House, Vivid LIVE's program includes a pop-up gig series in Tumbalong Park; a supper club series that'll turn Mary's Underground into an intimate cabaret lounge; DJs spinning tacks every night at a pop-up dance floor in Ultimo; and free gigs taking over Central Station's Grand Concourse.
Plus, the heroes of house music at Ministry of Sound are bringing back their outrageous party to celebrate the EDM outfit's three-decade stretch of good vibes and great tunes. Called Testament and described as a "warehouse experience", it will be taking over the sandstone hallways of the recently revived Campbell's Stores buildings in The Rocks for the whole June long weekend. The immersive multi-room party will run over three consecutive nights, with each night dedicated to a specific era of electronic music, and three big rooms to get your rave on.
Vivid Ideas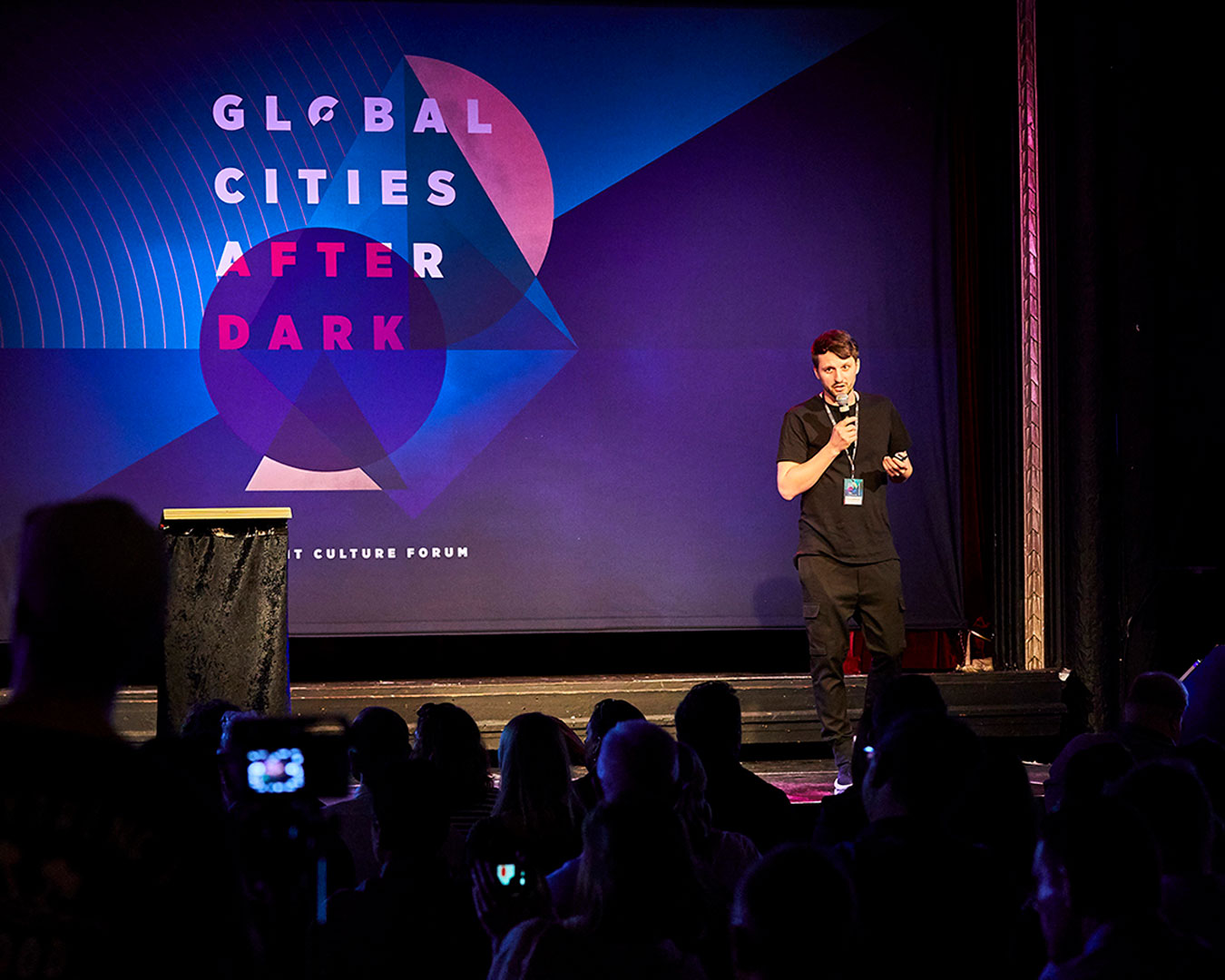 Rounding out the epic cultural festival is Vivid Sydney's Ideas segment with a lineup of thought-provoking debates, artist talks, and in-depth discussions. Vivid's introduced a new program into the mix, too, taking over the MCA, Powerhouse Museum, Maritime Museum, and Australian Museum. Dubbed Vivid Ideas Up Late, the free program combines talks, art, and performance and will cover everything from drag and ballroom culture to fashion, food, films, and more. Check out more info here.
Vivid Ideas events we're interested in include this chat with Troye Sivan and Patrick Abboud on beauty, art, and fluidity; award-winning American screenwriter and director Aaron Sorkin discussing politics and drama with Aussie journalist icon Leigh Sales; a two-night ideas fest at the MCA; and the inaugural Vivid Sydney Dinner at ivy Ballroom, which will incorporate all of Vivid's elements with a multisensory feast that combines light, music, ideas, and creative cuisine by way of celebrated chefs Dan Hong and Mike Eggert. Oh, and the epic feed comes with paired wines, too.
It's a lot, we know. Sit back, take it all in, and check out the Vivid website for the full program, plus the Sydney Opera House website for its epic lineup and to nab tickets once they go on sale.
Sydney, we're back.
Vivid Sydney is taking over 11 Sydney locations from 27 May – 18 June. For more info and the full program, head to the Vivid Sydney website. For Sydney Opera House x Vivid LIVE, presale tickets open at 12pm AEDT on Thursday 17 March—sign up here. General public tickets go on sale at 9am AEDT on Monday 21 March.
Image credit: Destination NSW, Destination NSW, Prudence Upton, Destination NSW