Sydney certainly isn't lacking when it comes to breathtaking views (yay, us!). We love a good cocktail, but we like one even better with a view. Not just for tourists, we've found some of the best bars in Sydney that have delectable drinks and spectacular views. So whether you're looking for views from up high, or right at sea level, we've got just the bar for you.
Opera Bar | Sydney Opera House
Fancy a cocktail or two? We can't think of a finer way to enjoy the afternoon sun than by sipping on a raspberry blossom with a stunning view of the Harbour Bridge and the Opera House. Make sure you try the selection of award-winning, organic beers that are brewed exclusively for Opera Bar while you're there.
Manly Wharf Bar | Manly
With four bars and panoramic water views, Manly Wharf Hotel is definitely one for the list. With a classic seaside menu that includes the famous Chur Burger burgers (yum), Manly Wharf Hotel has your food, drink and view needs sorted.
Watsons Bay Boutique Hotel | Watsons Bay
As the sun starts to set, the boutique hotel in Watsons Bay comes alive! So sit down, relax and enjoy a long lunch or early dinner with a cocktail jug and spectacular harbour views. Boasting fresh seafood and a selection of yummy platters to share, get some friends together and head to Watsons Bay Boutique Hotel.
The Bucket List | Bondi Beach
Whether you're just finishing up a day at the beach, or heading out for a chic style dinner, Bondi's The Bucket List has got it all. With panoramic views of Sydney's famous beach this is the place to go for a few drinks, a classic beachside meal and to people watch the attractive folk of Bondi. It's definitely one for your Sydney summer bucket list!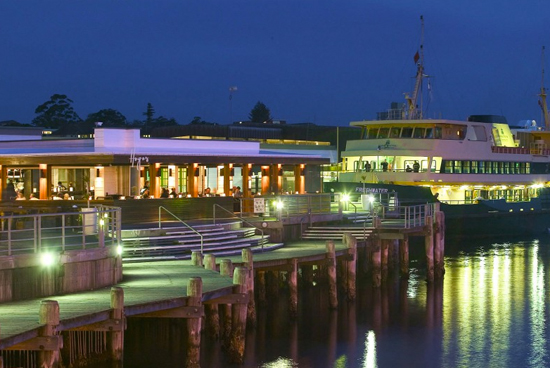 Hugos Manly | Manly
Perfect for those balmy nights, Hugos Manly offers one of the best waterfront views in Sydney's north. Mixing the perfect amount of style, sophistication and a tranquil atmosphere, it's one of Manly's many highlights. With a home-style Italian menu, the food is set to make the view even more picturesque. Oh, and the choc-hazelnut pizza is to die for!
Coogee Pavilion | Coogee
Coogee Pavilion prides itself on its love of food, family and friends in a magnificent oceanic setting. Whether you're heading down for a Sunday brunch, having a few drinks with friends or simply want a delicious meal, Coogee Pavilion is the place to be.
Newport Arms Hotel | Newport
Home to Australia's largest waterfront beer garden, the Newport Arms is simply sensational. Enjoy a drink or two in front of the outdoor cinema, or prepare for a sit-down meal in the Garden Bistro. No matter what you fancy you're definitely spoiled for choice with two garden bars, a lounge bar and a cocktail bar on offer.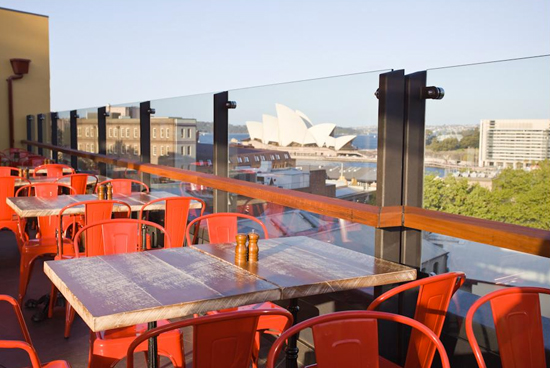 The Glenmore Hotel | The Rocks
The Glenmore Hotel is Sydney's best-kept secret. With a grand 180 degree view of Circular Quay and the city skyline – what more could you want? It's perfect for an afternoon cider while watching the sunset over our beautiful city. Head down for a potpie or, if you're game, try The Glenmore Burger, which isn't for the faint of heart or small of stomach.
Woolwich Pier Hotel | Woolwich
The newly refurbished Woolwich Pier Hotel is the definition of contemporary sophistication, complemented by breathtaking harbour views. We can't think of a better way to enjoy the scenery than by indulging in the hotel's award-winning pub food with a drink in hand. It's certainly a pub that all foodies and 'view enthusiasts' will love.
Balla | Pyrmont
If you're looking for dinner with a view and a whole lot of class then The Star's Balla is the place for you. Its stunning outlook over Sydney harbour makes for a truly memorable experience. Whether you're looking for pre-dinner drinks or simply beautiful food, Balla will deliver.
Looking for more bars? Check out our Sydney Restaurants and Bars section!
Image credit: Opera Bar, Hugos Manly, The Glenmore Hotel