Sea cucumbers. Yep, sea cucumbers. Those super weird, semi-cute aquatic critters that snail along the ocean floor are a part of the latest beauty trend making waves in the skincare world for anyone after a dewy, glow-up complexion.
Not so sure about the cucumber? Stay with us on this one.
Queensland-based beauty brand Baché De Mar (that's sea cucumber in Spanish) is currently leading the charge with two sell-out sea cucumber collagen-infused serums—and skincare fiends are loving them. After learning about the sea cucumber's restorative and anti-inflammatory uses while living on a remote island in The Pacific, founder Renee Alyce returned to Australia and set to work on creating a new skin-saving product.
She worked alongside a local cosmetic compounding laboratory and a team of scientists specifically researching the effects of sea cucumber collagen for advanced cosmetics and tissue generation—and voila, Alyce dropped Sea Cucumber Collagen Regeneration Night Serum late last year, and has now followed up with an anti-ageing day cream.
As for the science behind it all, sea cucumbers are understood to be a sort of bio-active miracle—an untapped super ingredient with stacks of benefits due to their incredible ability to thrive and regenerate themselves in the harshest of environments.
A report published in the Marine Environmental Research journal reads, "The use of marine collagens is a hot topic in the field of tissue engineering… Echinoderms (sea cucumber) possess unique connective tissues (Mutable Collagenous Tissues, MCTs), which can represent an innovative source of collagen to develop collagen barrier-membranes for Guided Tissue Regeneration (GTR)."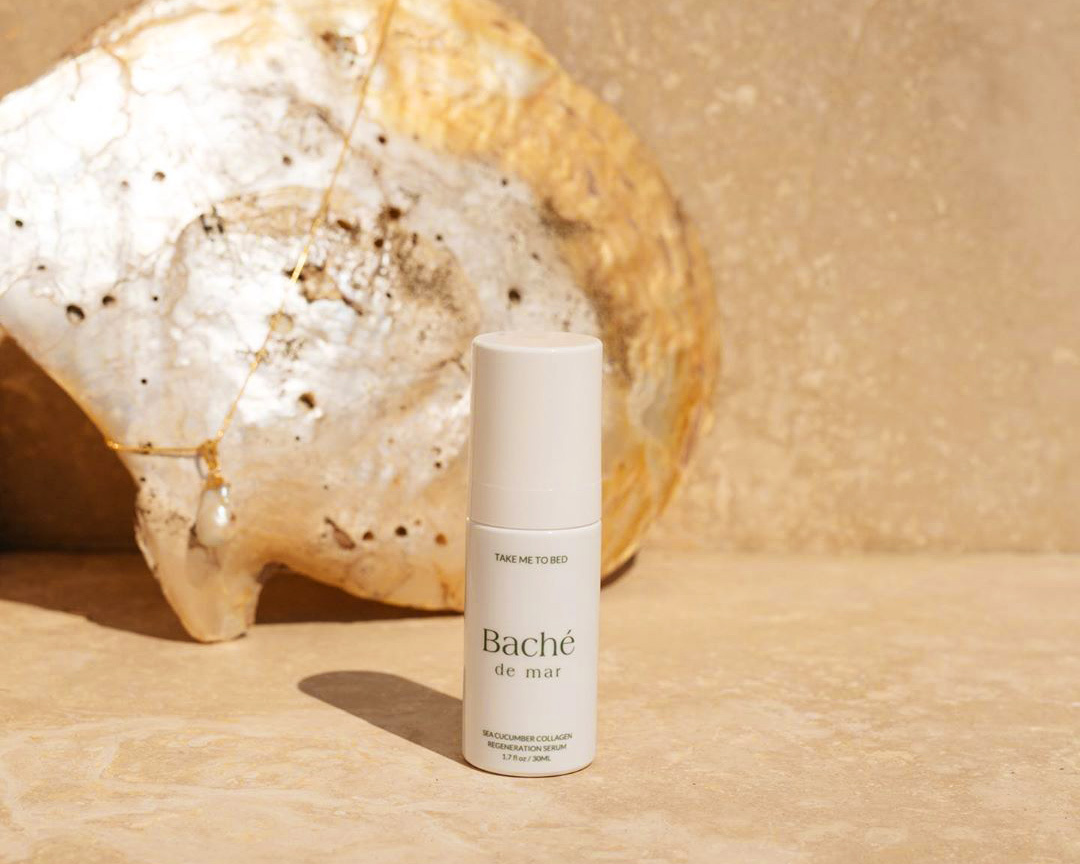 Or, in skincare speak, sea cucumber collagen is thought to stimulate collagen creation, cell growth and tissue repair. Essential amino acids found in sea cucumber collagen are a win for softer, firmer, brighter, youthful skin.
Alyce also discovered that sea cucumber collagen has been favoured for its healing properties by Australia's First Nations culture for many thousands of years.
"To the indigenous ocean tribes of Northern Australia, particularly Arnhem Land (then, "Marege") and the Kimberley Coast ("Kayu Jawa"), sea cucumber was a valuable source of food and medicine, as well as a key product in trade in Australia's first modern industry," she says.
"Our unique complex of natural compounds works efficiently in delaying the visible signs of ageing," Alyce explains. "The result is the noticeably diminished appearance of photodamage and ageing, replaced by incredible radiance and luminosity."
If you still need convincing, Baché De Mar falls into the "clean beauty" category too. There are no silicones, sulphates, parabens, dyes, chemical sunscreens or SLSs in Baché De Mar serums, nor is the product tested on animals. The packaging is also 100% recyclable.
You can read more about Baché De Mar and shop the serums right here.
Doing plastic-free July? Level up with this epic emporium of zero-waste goodies.
Editor's note: Urban List editors independently select and write about stuff we love and think you'll like too. Urban List has affiliate partnerships, so we get revenue from your purchase.
Image credit: Baché De Mar