Fact – reading is one of life's greatest pleasures. Fact – dipping into a novel / historical romance / sporting bio / 2 kilo tome when there is water within strolling distance is life's GREATEST pleasure.

While I personally like to keep my holiday reading fodder of the light, breezy and unchallenging variety, others (show offs) prefer to dig into Tolstoy and the like.

Whatever your preference, there is a book out there with your name on it this Christmas break! To help, I have quizzed The Urban List staffers on their top holiday book suggestions. Here's what Team TUL will be chucking in the beach bag.

Sophia (Brisbane)

ME TALK PRETTY ONE DAY by David Sedaris
Any Sedaris is good Sedaris, but Me Talk Pretty One Day is a favourite of his personal essay collections. Following Sedaris's upbringing in suburban North Carolina, to New York, and then to Normanby, in this memoir – as in all work – Sedaris renders the everyday as squirmishly hilarious.

OLIVE KITTERIDGE by Elizabeth Strout
Well deserving of her Pulitzer, Elizabeth Strout weaves a captivating multi-narrative around the formidable Olive Kitteridge and the lives of the town folk in coastal Maine that she captures so acutely. A gentle and memorable read, best enjoyed under a sun hat.

STATUS ANXIETY by Alain De Botton
If keeping up with the Joneses all year long has left you frazzled, you need to get your paws on De Botton's helpful musing on the perils and tribulations of our status seeking culture. Part philosophical musing, part self-help manual, part history lesson, Status Anxiety is a must for navigating the board room or the school run.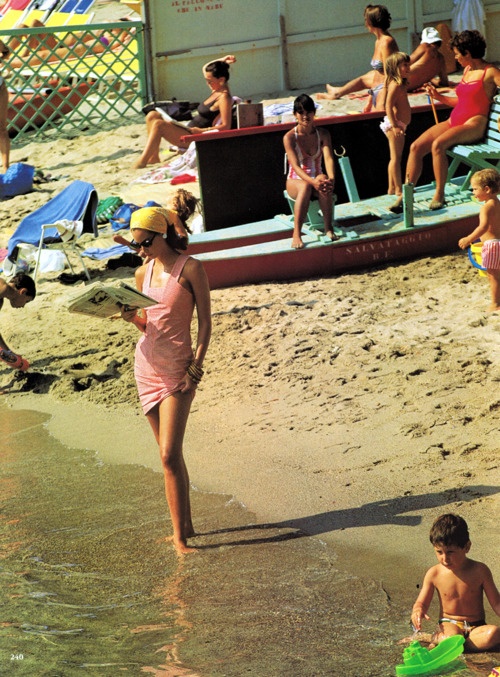 Iro (Melbourne)

STRICTLY CONFIDENTIAL & THE RUMOUR MILL by Roxy Jacenko
Strictly Confidential, and the sequel The Rumour Mill, follow the story of Jazzy Lou, a hard working Sydney PR girl who starts her own agency. Fun and frivolous, it's a peek into the so-called "glam" PR world and perfect if you're looking for something light-hearted.
THE HUNGER GAMES by Suzanne Collins
I am such a fan of this trilogy! Katniss, the hero of the series, kicks ass in this story about a fight-to-the-death reality show set in the land of Panem. Make sure you read the books before you see the movies - so good!

A GAME OF THRONES by George R. R. Martin
Not your typical fluffy beach read – each book in the series is quite epic but totally draws you in and leaves you wanting to read the next one! GOT is like the ultimate power battle in a fantasy kingdom with a heavy serving of sex, drugs & rock and roll.

MAN REPELLER: SEEKING LOVE. FINDING OVERALLS by Leandra Medine
Leandra Medine (a.k.a The Man Repeller) is so funny in this autobiography – she talks really frankly about her life so far and how her blog came to be. If you didn't love her before (hard to believe), then you will totally be her biggest fan after!

GRACE: A MEMOIR by Grace Coddington
Another awesome autobiography, this time by the woman who I wish was editor of Vogue instead of Anna Wintour! Grace Coddington has this great, dry sense of humour and talks about what it's really like to work for Vogue.

Jacqui (Sydney)

EVEN COWGIRLS GET THE BLUES by Tom Robbins
This is an excellent piece of American literature with endearing, unconventional characters that run away with your imagination. In reading this book you become one of the outsiders. It's escapist whilst stimulating, and please don't reference the film.

A WIDOW FOR ONE YEAR by John Irving
Continuing my theme of American literature, I love all of Irving's writing but A Widow For One Year is my favourite, which I can read over and over again. Set over the course of three time periods, its subtle and intricate emotional power gets me every time.

TO KILL A MOCKINGBIRD by Harper Lee
And last on this American literature list, To Kill a Mockingbird, my most obvious addition, but so much sentiment. I think everyone can relate to the sense of justice Atticus Finch strives for – the social values are timeless. It's always a rewarding read.
Pip (Moi – Melbourne)

GONE GIRL by Gillian Flynn
If you haven't read this BRILLIANT psychological thriller at least once, now's the time. Fast paced and twistier than a pretzel, make sure you remember to put it down occasionally and reapply the SPF 50.

ONE DAY by David Nicholls
Definitely in my top three books of all time. Oh the romance, oh the wit, oh the drama! Dex and Emma are a modern day Romeo and Juliet and their love story will have you laughing and weeping in equal measure. Brilliantly British.

HOW TO BE A WOMAN by Caitlin Moran
If you like books by ballsy, clever broads, this one will have you chuckling and nodding in agreement. On the menu – body hair, motherhood and self-loooove. Moran has an arsenal of non-preachy advice for navigating life with chesticles.

RIDERS (and the Rutshire Chronicles) by Jilly Cooper
Full of horses and haughty naughty characters, Riders and the rest of the Rutshire Chronicles titles make for a deliciously indulgent read. Oh so saucy – prepare to snort your milkshake out your nose.
Ellie (Sydney)

NORWEGIAN WOOD by Haruki Murakami
This is Murakami at his best. I love how hauntingly nostalgic the text is, and the quietness of the Japanese location seems really alluring.

EVERYTHING IS ILLUMINATED by Jonathan Safran Foer
This book can be a little confusing in the way it switches between two stories and writing styles, but to me that's what makes it all the more entertaining. The history that Jonathan weaves into it is also incredibly interesting.

EXTREMELY LOUD AND INCREDIBLY CLOSE by Jonathan Safran Foer
The film, released in 2011, is nothing on the book, also by Jonathan Safran Foer (yes, I'm a fan). I was really touched by the emotion of this story and completely got on board the journey of the main character, Oskar, as he treks around New York.
Jessica (Melbourne)

THE BEACH by Alex Garland
Reading this, wherever you are, will make you feel like you're on a blissful adventure in Thailand…and smooching Leo on a tropical beach. If you're a fan of the movie, this book is an absolute must read.

HARRY POTTER AND THE HALF-BLOOD PRINCE by J.K. Rowling
Because there is never not a good time or place to read Harry Potter.
Prue-Ellen Thomas (Sydney)

TENDER IS THE NIGHT by F. Scott Fitzgerald
Everyone knows and loves The Great Gatsby, but his later book, Tender is the Night, explores the similar themes but in a far more eloquent way.

1Q84 by Haruki Murakami
Getting through this book is no easy feat – its size makes it impossible to carry around and read on the bus or train – but to finish it is a huge reward. In a strange, parallel world in Japan, the author delights with surprise after surprise to keep you wanting more.

JASPER JONES by Craig Silvey
This book is said to be an Australian To Kill A Mockingbird, and while it shares some of the same values in terms of social and racial inequality, I find it so much more engaging. I couldn't put it down and felt the same sense of anger, rage and love as the lead character, Charlie.

Main Image Credit: Pinterest, Arthur Elgort, and Jenny Gage & Tom Betterton