Whether it is an important occasion, after work dinner or perhaps you are just passing through town—there is something special about getting all dolled up and hitting Sydney's CBD for dinner. Some of our grandest, most entertaining eateries are nestled within the towering pillars of economy.

Here is our list of the best restaurants in Sydney's CBD for 2014, those that you know and love, and some new dining players.
The Bently Restaurant & Bar | O'Connell St
The Bentley Restaurant & Bar's relocation from Surry Hills to the heart of Sydney's CBD, has brought sommelier Nick Hildebrandt and chef Brent Savage's exciting culinary skills to a new and appreciative audience. The stunning interior, designed by award-winning architects, Pascale Gomes-McNabb, perfectly complements the highly curated food and beverage offering. A menu peppered with seafood, organic poultry and meats, chargrilled beef cuts and vegetarian options, The Bentley Restaurant & Bar offers a well-rounded selection. A seven-course tasting menu is available for $150 plus wine, and is great way of experiencing Savage's talents. When it comes to the wine list, Hildebrandt has collated some 1000 wines from around the world, so take your time and indulge.
Address: 27 O'Connell Street, Sydney NSW 2000
Phone: (02) 8214 0505
Alpha | Castlereagh Street
This is neo-classic Greek dining at its finest, originally opened in the late 1950s, the Hellenic Club has been transformed via the passionate expertise of chef Peter Conistis. Here the eclectic and traditional Greek dishes are designed to be mixed and shared around the dining table. The atmosphere emits a unique ambience that manages to be glamorous, homely and welcoming all at the same time. Whether it be the twice-cooked octopus, 'vintage' eggplant moussaka with seared scallops and taramasalata, or the Mastic-spiced quail with feta and watermelon—you will not be disappointed with this Mediterranean epicurean journey at Alpha, all right in the heart of Sydney's CBD.
Tetsuya's | Kent Street
Dining at Tetsuya's on Kent Street in Sydney's CBD is an official bucket list experience. With long and exclusive waiting lists in place, enjoying Tetsuya Wakuda's famed ten-course degustation needs to be planned in advance. A refined oasis in the heart of the bustling city, you can dine overlooking the beautiful Japanese garden or in a private room decorated with Tetsuya's personal ceramics collection. The seasonal degustation, which costs $220 per person excluding beverages, is an artisanal blend of Japanese philosophy with classic French cooking techniques. Though the menu is subject to change, some current highlights include: marinated NZ scampi with walnut oil and egg; tea smoked quail breast with black olives and artichoke; and white peaches with almond milk ice-cream. In no uncertain terms one of the best restaurants in Australia, let alone Sydney's CBD.
Est. | George Street
Part of the Merivale Group, Est. has firmly cemented its position as one of Sydney's, if not Australia's top fine dining restaurants. Located within the heritage-listed Establishment building on George Street, famed chef Peter Doyle continues to prove he is at the forefront of modern-Australian cuisine. Seasonally driven, French-inspired and Australian-focused, the menu both pleases and surprises the most ardent of foodies. Est. and Peter Doyle personally have received extensive industry accolades and praise. Signature dishes include: the steamed Murray cod with shaved abalone, snow peas, black fungi, ginger and green shallot vinaigrette; the white tea consommé, venison tataki, beef tendon, yuba, turnips and shiitake; and the passionfruit soufflé with passionfruit sorbet to finish.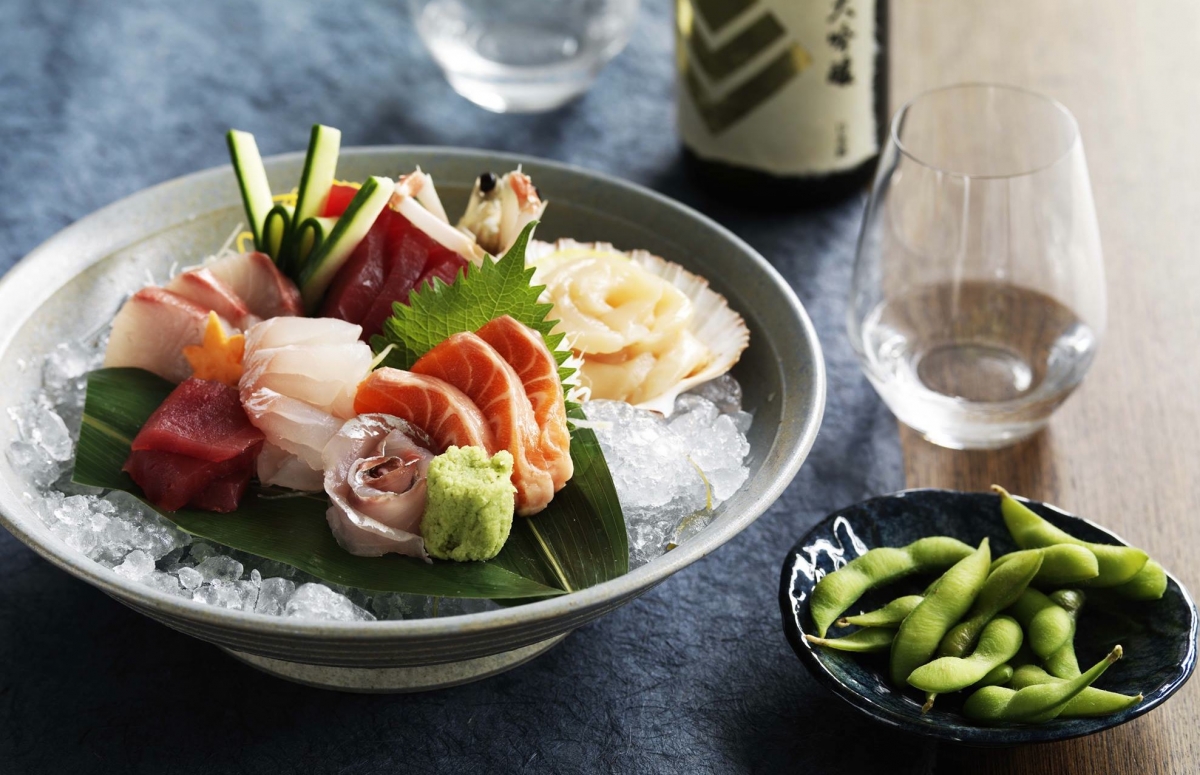 Saké
Sake Restaurant & Bar | Argyle Street
Hatted Chef Shaun Presland's shining star, Sake Restaurant & Bar nestled on Argyle Street in The Rocks, is the stage upon which his contemporary Japanese fusion is played out. Having trained in Japan for many years and undertaking a number of high-profile mentorships, Presland learnt the rules so he could break them. His contemporary creations are renowned: popcorn shrimp with butter ponzu; jalapeño salmon; sashimi pizza; or his Glacier 51 tempura, just some of the unique culinary experiences that await. Along with the 'new classics' you will find traditional Japanese fare done to perfection. True to its namesake sake is an obvious specialty and passion of the establishment, the entire menu has been designed with an exclusive range of Kozaemon sakes from Nakazhima to match.
Rockpool Bar & Grill | Hunter Street
The epic cathedral-like surrounds of Rockpool Bar & Grill's premises is something to behold and is the perfect Sydney CBD destination for that special occasion or spontaneous indulgence. Famed for its Blackmore's Wagyu, Greenhams and Rangers Valley beef, all directly sourced from the producers and dry aged on premises, Neil Perry's Rockpool Bar & Grill is where you come for the highest quality meat. Aside from the mouthwatering grill selection, there is an extensive curation of seafood, poultry, pasta and salad dishes all served up to Perry's impeccable standards. A wonderful dining experience and one of the best restaurants in Sydney's CBD. Not to be forgotten of course are Spice Temple and Rockpool, Neil Perry's neighbouring and outstanding complementary restaurants. Spice Temple for its upmarket, regional Chinese-inspired dining and Rockpool for its renowned fine dining offering since 1989.
Mejico | Pitt Street
Eating at Mejico is all about having some serious Mexican fun, an oxymoron I know. No this is not fine dining but it is delicious Mexican fare and well worth the visit for a relaxed, tasty night out. Located next door to Jamie's Italian on Pitt Street in the CBD, Mejico sports bright pink walls and delicious, fresh guacamole made right at your table. The theatre of it all is wonderful, avocado and a tray of goodies including coriander leaves, red chilli, red onion, wasabi and lime juice are pounded together with a mortar and pestle in front of your eyes. For authentic, quality Mexican cuisine this is your destination, make sure you try the pulled pork tacos and the glazed pork ribs.
Berta | Alberta Street
Modern-Italian cuisine featured across an eclectic seasonal menu and combined with impeccable service, guarantees a highly enjoyable dining experience when at Berta. Located at the southern end of the CBD on Alberta Street, Berta has a contemporary feel with floor-to-ceiling windows framing the graffiti stained laneway next door. The staff members are extremely knowledgeable when it comes to the impressive selection of Italian wines on offer, we highly recommend taking their cues as to your beverage selection. As to the food, the ever-evolving cheeseboard is an absolute must, along with the zucchini flower fritti spiced honey ricotta salad and the tagliolini tomato crab anchovy pickled chilli.
The Bridge Room | Bridge Street
This two-hatted restaurant, headed up by renowned chef Ross Lusted, has garnered quite the reputation and holds a well-deserved position in our list of the best restaurants in Sydney's CBD. The décor is modern, fresh and light with a Mid-Century design bent, the cuisine possesses strong European and Asian influences. The vegetarians are well catered for here with a dedicated menu, as are the carnivorous. For the former, why not try the silken tofu, snow pea leaf salad with shiitake mushroom broth; or the heirloom carrots, beans and greens with summer flowers, salt grilled leeks, goat's curd, salad burnette. For the latter, highlights include: spanner crab, picked and shelled with white peach set verjuice, currants and peach tea; or raw Wagyu shoulder, robata smoked enoki mushrooms, Celtic sea salt, fresh wasabi and soft pickled chilli; and finally ash-grilled duck, pressed figs, blood plums with grilled blueberries and blood plum vinegar.
Address: 44 Bridge Street, Sydney NSW 2000
Phone: (02) 9247 7000
Quay | Hickson Road
Peter Gilmore's Quay offers world-class dining right here on the cusp of Sydney Harbour. Since 2009 Quay has been ranked in The World's Top 50 Restaurants according to British magazine Restaurant and received many local accolades, famous for Gilmore's modern-Australian cuisine. Often described as awe-inspiring, Gilmore's signature dishes include: the Snow Egg, an egg-shaped poached meringue with an ice cream centre; and the Eight-Textured Chocolate Cake. Gilmore's aim is to create a unique dining experience, experimenting with rare ingredients, harmonising flavours and contrasting textures. When your dish arrives it is truly a thing of beauty. Oh and the views of the Opera House and Sydney Harbour Bridge aren't bad either. Quay proudly rounds out our list of the best restaurants in Sydney's CBD.