If there's one thing the people of Sydney love, it's a sneaky weekend road trip, away from the crowds and packed full of adventure. Enter the Day Tripper guide, your go-to for all the cheeky day trips made easy.
This time around, you'll need to load up the car for a well-deserved day away and hit up the open NSW roads for a classic trip up to the Blue Mountains.
With hikes, caves and gardens on the itinerary, this Blue Mountains gem makes for the perfect road trip out of Sydney.
Location: Blue Mountains Botanic Gardens, Mt Tomah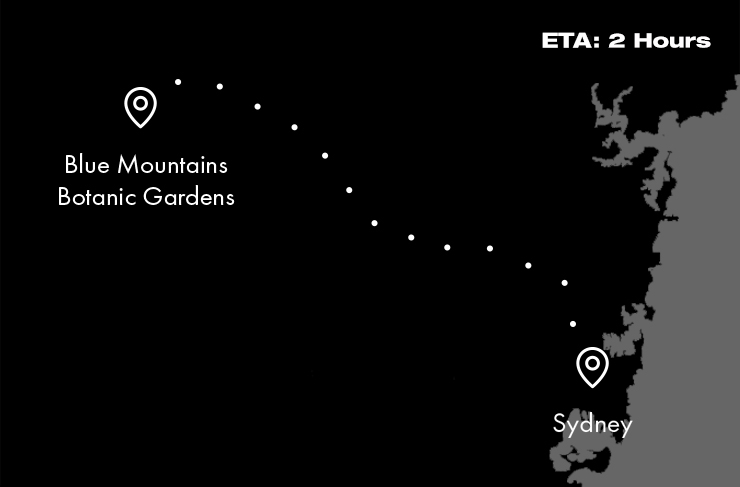 Formally known as Mount Tomah Botanic Garden, The Blue Mountains Botanic Garden is one hell of a stretch of exotic and rare plants and is home to a tonne of natural woodland and alpine rainforest to explore.
It's also pretty much the only botanic garden anywhere in the world located within a United Nations World Heritage Area, and there are a number of enclosures to see on your visit. The Formal Garden is a Euro-inspired terrace featuring hand-glazed pergolas, the Rock Garden is where you'll find South African and South American plant varieties, and the Bog Garden is home to a hanging swamp with carnivorous sprouts like the iconic Venus flytrap.
Wander around the grounds at your own leisure or take a guided 20-minute shuttle bus tour to keep your knowledge flexed on all things nature. Plus, if you see something you think would look spectacular in your backyard, head into the garden's on-site botanical store, where a collection of the garden's exotic sprouts are kept.
The Blue Mountains Botanic Garden is open weekdays from 9am until 5:30pm (and weekends and public holidays from 9:30am) so in winter, this glorious nature hub becomes one of the prime spots in NSW to watch the sun go down.
For Your En-Route Caffeine Fix
To get that jolt of energy you so desperately need before this big day, stop by Richmond and pop into the Ugly Mug Coffee House.
This joint is an institution this side of the Hawkesbury River, serving up pies, loaded freak shakes, pulled pork burgers and decadent takes on classic French Toast (once upon a time these guys decked out a sweet stack of the good stuff in maple bacon, strawberries and ice-cream).
For an extra boost on your road trippin' adventure, hit the next level "Muggaccino" and order up a "Gangster Reuben" sambo pumped with corned beef, caramelised onion, tasty cheese, lettuce, tomato, house-made beetroot relish and BBQ sauce.
If you're keen to stock up on your picnic supplies, you should also think about grabbing a hoard of the buttermilk scones here, served with a dollop of cream and berry compote.
For Gallery Hopping
If you're wanting to head home via Katoomba, make sure to take some time out to check out the numerous galleries lining the streets. Lost Bear Gallery hits the nail on the head with its renowned stable of Australian contemporary artists.
Take a gander through the paintings, sculptures, ceramics and hand-blown glass for an eclectic showcase of the local art scene and your dose of culture.
Should you take a stroll through the streets around here, you're also in for a spot of street art, as the walls in this area are filled with colourful murals.
And if you have time, make your way 10 minutes down the road into the Glow Worm Cave for an ethereal sight in this once-abandoned railway tunnel.
Staying a while? For a whole guide to the Blue Mountains, we've got you covered.
Image credit: Kieran Osborne.