Some of us relish a traditional roast, a backyard barbeque, or the freshest seafood . . . but whether it is pheasant, quail, venison, rabbit or duck, there are those who just love a sweet meat. For the more 'exotic' meat eaters—we have just the thing.

For the month of July (with just over one week to go!), leading New Zealand vineyard, Cloudy Bay, has teamed up with some of Sydney's top chefs to serve up duck creations, which meld seamlessly with their Pinot Noir 2011.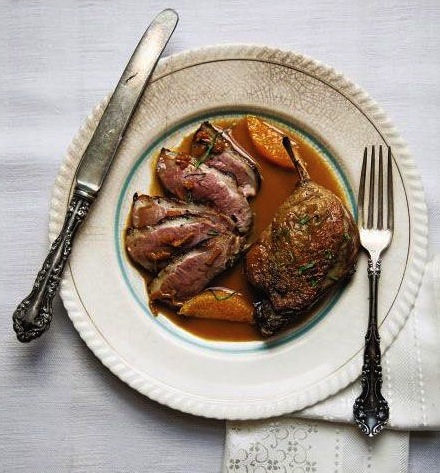 So, if you are a duck lover and enjoy a splash of pinot, you have one week to hop on board the Cloudy Bay trail. On offer for your culinary gaming pleasure, take your pick from notable restaurants including, Neild Avenue, Bistrode, Felix, The Winery— to name a few. Why not try the twice-cooked confit leg of duck, with white bean cassoulet, at The Westin; or the duck ravioli with wild mushrooms on offer at Ucello.

From the classic winter dishes, to one-off, specialty creations, duck lovers are spoilt for choice. Check out the delicious and unique duck-trail cuisine below.

Cloudy Bay Pinot & Duck Trail July

Neild Avenue: Spice roasted duck with chickpea pilaf and coriander parsley salad.
Felix:? Duck confit, cassoulet-style white beans, pork belly and garlic sausage.
Sokyo: ?Pan seared duck, shitake mushroom, pearl barley risotto, pinot noir shansho jus.
The Westin: Twice-cooked confit leg of duck with white bean cassoulet, crispy black pudding and apple cider glaze.
The Old Library: Pappardelle di pane, duck ragu, fungi and chestnuts?.
Bistrode: Thirlmere duck leg confit, savoy cabbage, bacon and chestnuts.
Ucello: Duck ravioli with wild mushrooms.
Wildfire: Slow cooked duck leg with duck ravioli.
Park Hyatt: Jumjum Muscovy duck and wild caught abalone, pea shoots, fregola, caramelised hazelnuts and mixed leaf salad with salad cream.
The Winery: Cassoulet of duck with gordel olives.
Gazebo: Cassoulet of duck with gordel olives.
The Treehouse Hotel: Confit duck leg with warm kipfler potato salad and house made orange marmalade.
Bon appétit!

Note: Prices vary depending on the restaurant, but on average the Cloudy Bay duck/pinot pairing is around $45.

Top image credit: Food52
Bottom image credit: Saveur