Anyone else sick of the same old, humdrum routine? Thought so. Have you started looking for thrills outside of tasty treats and the occasional tipple (read: entire bottle) of wine? Us too. Perhaps you've begun spitting into the wind, just to feel the rush of adrenaline chance can give you.
Yeah. You need a holiday.
What better way to take a load off than by chucking on your gumboots and embracing the outdoors with a farm stay? Like a loyal sheep dog (but with a little less of a penchant for running) we've rounded up the best farm stays from the Blue Mountains to the Southern Highlands and everything in between.
Practice your hay baling; we're hitting the paddocks.
Mowbray Park Farm
Picton
An easy one hour and change from Sydney's CBD, Mowbray Park Farm is ideal for the holidaymaker who'd like to a) sit back with a glass of chardi and watch others toil or b) get their hands dirty and have a go themselves. Set on 85 hectares, guests of Mowbray Park Farm not only get to choose from a variety of country lodges but can also try their hand at milking a cow, collecting eggs, sheep shearing, and whip cracking. Those who'd prefer to retire to the post-dinner campfire sans eau de chicken feed can fill their afternoons with horse riding, tennis, swimming, archery and canoeing. We're feeling relaxed already.
Tobruk Sheep Station
Hawkesbury Valley
Grab a mate (or 12, thanks to their newly refurbished digs) and head on over to Tobruk Sheep Station in the Hawkesbury Valley. Tobruk offer a number of programs for groups and families wanting a fair dinkum farm experience (you won't find a mani/pedi station here). Programs vary but you'll likely see a boomerang throwing and whip cracking demonstration, sheep muster, duck show and sheep shearing—between billy tea and damper that is.
Bilpin Springs Lodge
Bilpin (Blue Mountains)
Ah Bilpin. Best known for its apples (and literally everything you could ever make with said apples), Bilpin is an easy choice for city slickers keen on some R&R. Bilpin Springs Lodge offer farm stays with access to activities like canoeing, fishing, animal feeding (chooks, ponies and Denton the alpaca) as well as nearby horse riding, abseiling, mountain biking and other Blue Mountains adventures (if you count those three big rocks aka The Three Sisters as an adventure). You can book out the whole lodge (20 guests) or just one or two family-sized rooms, but the best bit? They're pet friendly aka godly. Warm up your fruit pickers (fingers), we're Bilpin bound.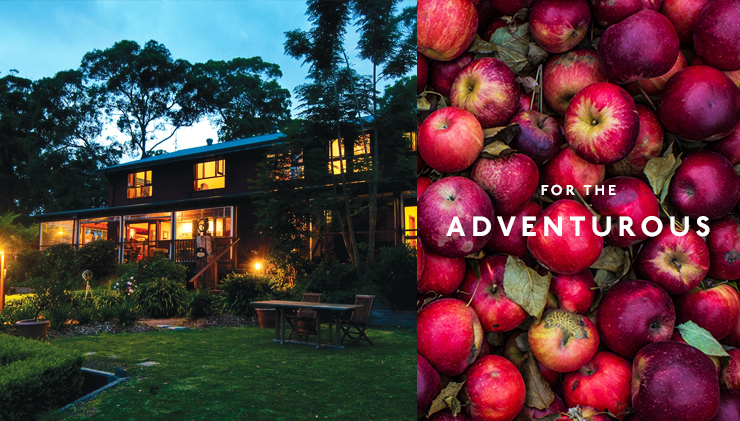 Starline Alpacas Farm Stay Resort
Broke (Hunter Valley)
For the uninitiated, alpacas are similar to llamas but smaller and—thankfully—with half the attitude. Keen to become acquainted? Hit up the Starline Alpacas Farm Stay Resort and you'll never get those two longnecks confused again; a breezy 200 alpacas call Starline home. Add a handful of goats, sheep, pigs, chickens, rabbits, ducks and we're one beast short of an ark. Not quite so keen on the animal kingdom? This farm stay has extensive gardens, a tennis court, pool, spa and sauna to keep you occupied.
Go on, book one of these cozy, self-contained cottages and prepare for an alpaca wake-up call.
Farm Club's Tarella Farm House
Werai (Southern Highlands)
The Tarella Farm House is perfect for farm stay wannabes who'd like to stretch out and have a farm house in the most glorious of forms: all to themselves. Located near Moss Vale, this four-bedroom house is a hop, skip and a jump from the Farm Club café, nursery, farm walks and edible gardens. Farm Club includes 250 cows, 16 horses, 24 free-roaming pigs and 15—what we're told are quite clever—chickens and if you're lucky, you might even glimpse a kangaroo. Get packing, we need to know the names of all 24 piggies.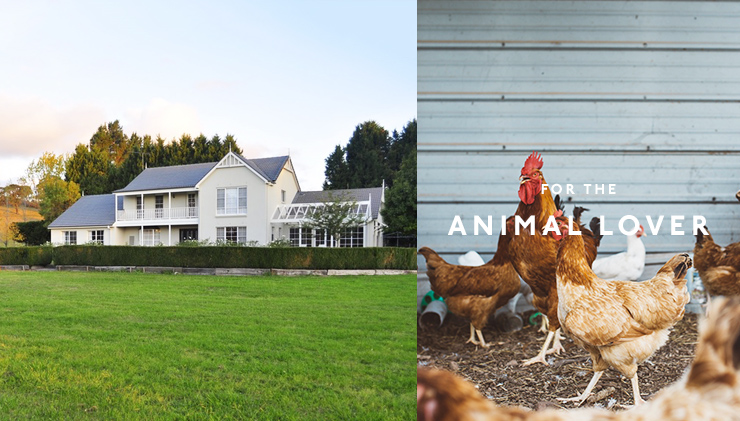 Wayward Jerseys Farm Stay
Uralla (Northern Tablelands)
If you saw 'jerseys' and thought 'cow' not 'long-sleeved clothing', congrats! You're halfway to being a farm pro already. Why not bring six of your best mates to a self-contained cottage for a farmyard trivia show down? It's the new Cards Against Humanity after all. Advocates for interactive vacations, the gang at Wayward Jerseys is here to ensure you get the most out of your time with activities like bottle-feeding calves and collecting eggs. They'll also provide fossicking and yabbying equipment if you're so inclined.
Hanericka Farm Stay
The Rock (Riverina)
Thirty-five minutes from Wagga Wagga, Hanericka Farm Stay is full of chooks, ducks, turkeys, alpacas, camels, goats and our personal favourite, Porky the Pig. Visitors can go for a farm drive, try horse riding (kids on site, adults off site) as well as bushwalk, play tennis, ride bikes, sit around the campfire or simply help out with farm chores (including bottle-feeding lambs). Super bonus points for Hanericka's prolific use of electric blankets. You know us chill-sensitive city folk too well.
Check out these glamping spots around Sydney if you're feeling a 'lil fancy.
Design credit: Gabrielle Stjernqvist