Leave the big bucks at home Sydney, we've gone and done you (yet another) massive favour. Look no further because this list is your one-way ticket to eternal and cheap AF happiness. We know December is already set to break your bank which is why we've scoured the city for all the free things happening in Sydney this month—your wallet will thank us for it.
There are markets (note: Christmas markets), open-air cinemas, Sunday sessions and a spot of relaxation—we know you'll need it after all the 'family time'.

---
The Lights Of Christmas
Starting on 6 December, The Lights of Christmas is back. Yep, for another year, St Mary's Cathedral will be lit (literally) with animated light and sounds shows every day until Christmas. There'll even be a choir kicking it off every night at 7.30pm.
Where: St Mary's Cathedral
When: 6 – 25 December, lights from 8.30pm
Free Daily Tour Royal Botanic Gardens
It's not every day you get a free guided tour around one of Sydney's most scenic parks.. well actually it kind of it. The Royal Botanic Gardens offers free daily tours in their parks so you can explore and learn at the same time—all for free. What bloody legends.
Where: Royal Botanic Gardens, Mrs Macquaries Rd
When: Daily 10:30am to 12pm, ends 31 December
Heartfulness Meditation & Relaxation
We can't think of a more relaxing spot to meditate than the beach. And since we need a little helping hand in the medi department, we're all over this one. For all you Northern Beaches babes, there's a weekly (free) meditation sessions happening at the Dee Why Surf Club and at this time of year you could probably do with a bit more chill.
Where: Dee Why Surf Life Saving Club Function Hall, Dee Why
When: Each Saturday, 9am to 10am, ends 16 December
Free Christmas Gift Wrapping
Head to the city this December to have your Christmas presents wrapped by the legit professionals—for free. Put your entire family to shame (there's that Christmas spirit!) with these beauties courtesy of The Strand Arcade who'll be offering complimentary cards and calligraphy for anyone who purchases a gift from the centre. And let's not forget the Queen Victoria Building will be providing free gift wrapping designed by local Sydney artists.
Where: Strand Arcade & Queen Victoria Building, CBD
When: Strand Arcade from 7 December & QVB wrapping from 1 December

---
Coogee Family Fun Day
Grab the fam and kick off this festive season at Coogee with all the free rides, delicious food and live music. With the sun shining and waves crashing, Sydney has never looked better.
Where: Goldstein Memorial Reserve, Coogee
When: Saturday 2 December
TAL Pop Up Spotchecker at Bondi Beach
Honest question: how long has it been since you last had your moles checked? That's what we thought. Australian life insurance company, TAL, knows how much us Aussies L-O-V-E the sun and the beach which is why they're popping up at Bondi Beach this December. There'll be specialist GPs giving free skin checks and we think you should bring along all your mates and family too because it's important, okay. Details here.
When: Saturday 2 December & Sunday 3 December, 9am to 6pm
Where: Pavilion Forecourt, Bondi Beach
Cost: Free
Sydney Crystal Show
Not only is hectic December the perfect time to align your chakras but this is also the perfect spot to pick up a cheeky present for the crystal-obsessed person in your life. Traders come from far and wide with beautiful crystals, fossils, gemstones and jewellery for this one and it's all as beautiful as it sounds. Look, we can't guarantee these mere rocks will give you endless good juju but they sure are pretty. Details here.
Where: 220 Oxford Street, Paddington
When: Saturday 2 December to Sunday 3 December
Sunrise Yoga By The Pool
Errry Wednesday morning at 7am an epic free yoga class is held on Level Seven and it's all thanks to Primus Hotel and Lululemon. Catch them before they disappear in mid December because these yoga classes are held poolside on the seriously fab rooftop.
When: Wednesday 6 December and 13 December, 7am to 8am
Where: Level Seven, Primus Hotel Sydney

---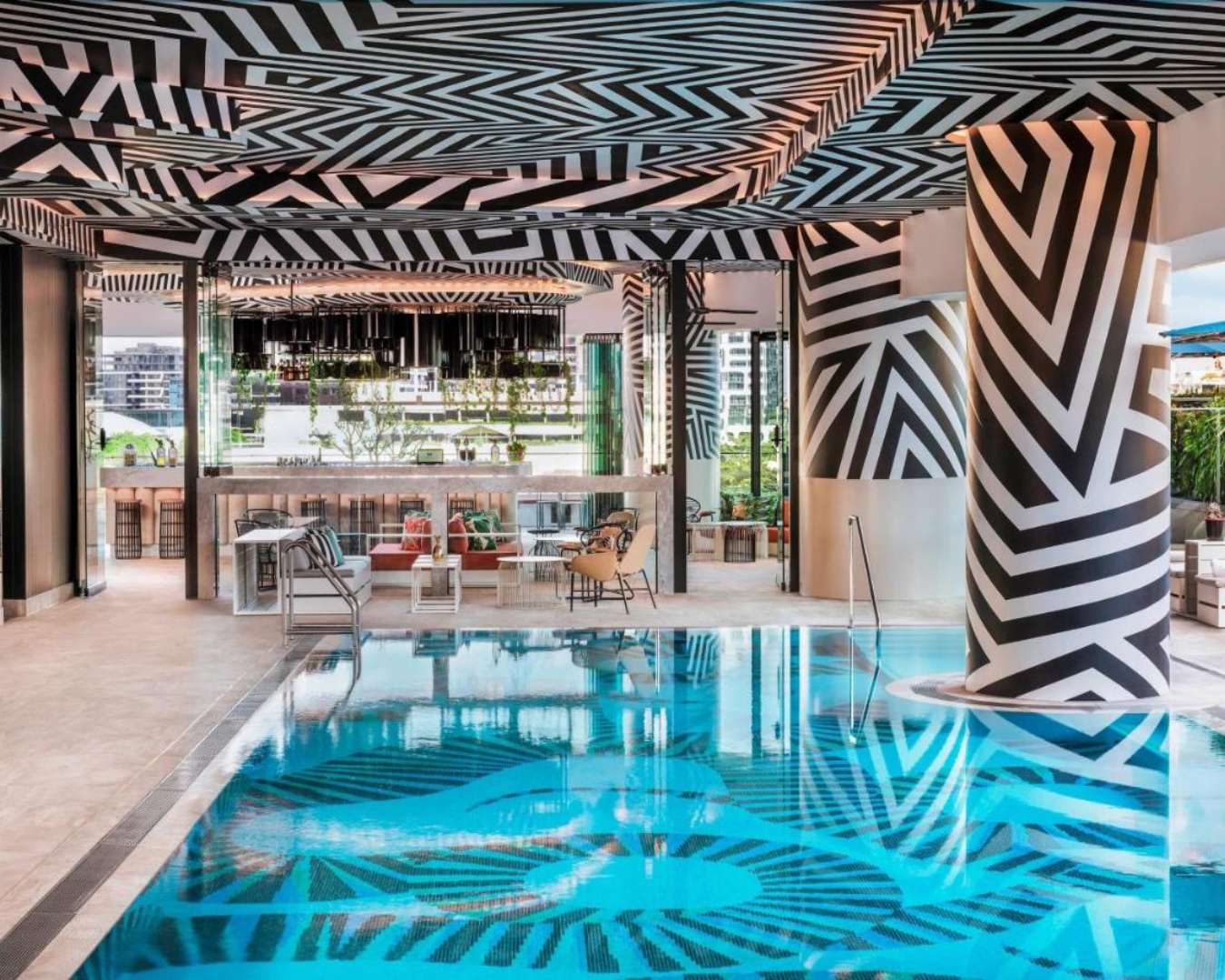 Solo Art Exhibition: The Magic Garden by Gabby Malpas
Gabby Malpas has created crazy beautiful floral artworks and they're on show in Chippendale this December. Trust us when we say they're definitely worth checking out for a bit of #culture. Her works are focused on botanical studies and often reference Chinese scroll paintings—cool, no? More details here.
Where: 3 Blackfriars Street, Chippendale
When: Saturday 9 December, all day
Matsuri in Sydney
So you could spend two weeks' worth of wages on flights to Japan OR you could head down to Darling Harbour this December where a huge Japanese festival is popping up for the day. Matsuri will bring food stalls, beer gardens, craft workshops and cosplay too so take this weekend off work and start planning your day at the festival STAT.
Where: Darling Drive, Darling Harbour
When: Saturday 9 December, 11am to 7.30pm
Carols By The Sea
Bondi Beach is damn iconic guys and do you know what else is iconic? Carols ON Bondi, that's what. Back for another year, you'll be setting up camp with all your loved ones for a whole lot of festive cheer (and terrible singing). The carols are free but cash donations and donations of non-perishable food items are warmly welcomed too. Details here.
Where: Bondi Beach
When: Wednesday 13 December

---
Glebe Artisan Summer Market
This is your chance to pick up a bunch of thoughtful AF handmade, one of a kind Chrissie presents for all of your mates. There'll be handbags, clothing, jewellery and pottery from locals. We can't guarantee this one will remain free once you get here but hey, that's on you man.
Where: 140 Glebe Point Road, Glebe
When: Saturday 16 December, 10am to 3pm
Camperdown Commons Crop Swap
This one goes out to all the home farmers who have trees, plants or bushes heaving with fruit, herbs and veggies RN. Fill a big bag with your garden goods and head down to the Camperdown Commons to swap some of your crops for other locals goodies. This is the cheapest weekly shop you'll ever do.
Where: Camperdown Commons, Camperdown
When: Saturday 16 December, 9:30am to 11am
Carols On The Beach
The 28th annual Carols by the Beach is coming back to Collaroy and it's the perfect spot for arvo drinks in the sunshine with your mates. Just sayin'. This event is free and perfect for the entire family, so bring your picnic rug and a cheese board, and get ready for some cheeky Chrissy carols.
When: Sunday 17 December, 5pm to 9pm
Where: The Beach Club, Collaroy
Cost: Free

---
Rolex Sydney Hobart Yacht Race, Double Bay
It's boxing day and you've gained just gained five kilos from Christmas lunch so you've earned a relaxing day by the sea. Plonk your newly formed food baby by Sydney Harbour and watch the world's most famous yacht race from Double Bay in the sunshine. Sounds pretty damn good to us. Details here.
Where: New Beach Road Darling Point
When: Tuesday 26 December
Looking for all the best markets happening in Sydney this month? Head here.
Image credit: The Lights of Christmas