Sydney's boutique and designer hotels are getting pretty damn exciting. Where we once had only the cookie cutter and five-star chains to offer our coolest travellers and staycationers, there's a new breed of luxury accommodation rising that's all about local culture, dreamy design, and just good, homey hospitality.
The Old Clare Hotel is a total charmer, built into a former brewery and surrounded by a smattering of the city's most exciting restaurants. Then there's this year's recent additions: the Paramount House Hotel as part of the iconic Paramount Pictures building, and The Collectionist in Newtown, which is an explosive, rich collaboration between seven designers and 13 local artists.
The latest in the stable is Little Albion Guest House. The jaw-dropping entryway to the property is hidden halfway down an unassuming alleyway in Surry Hills, and it looks more like someone's epic architectural mansion than the 35-room guesthouse that it is. Little Albion is the brainchild of 8Hotels—the same awesome hoteliers to give Sydney an Astrology Hotel.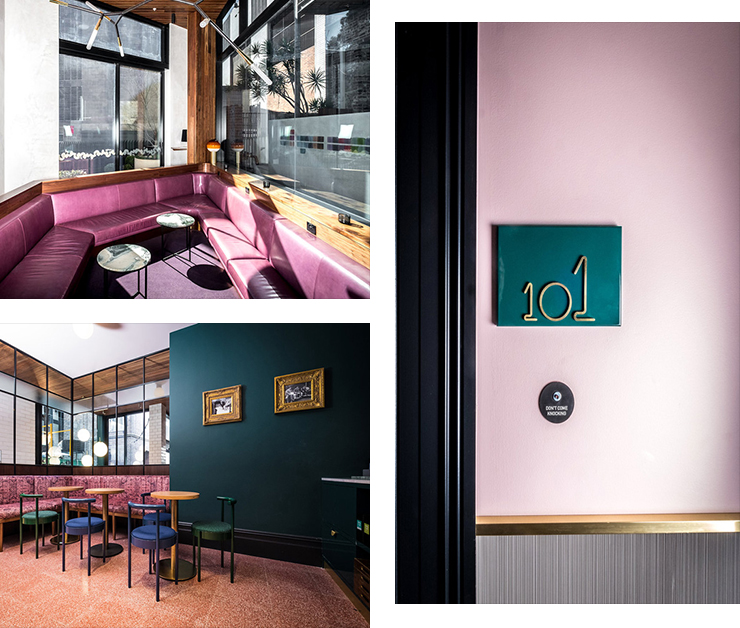 To create something one of a kind, 8Hotels enlisted Terence Yong Architecture together with interior design queens Cressida Kennedy of Space Control and Connie Alessi of Archemy. The interior is enchanting. It's a mishmash of 1920s and 1970s influences, which might sound like an odd coupling at first, but trust us—the metallic patterned wallpaper, brass accents and sunken berry-coloured lounge go together just swimmingly.
The building itself is part heritage—a nun's convent built in 1903—and part new extension, with a glass elevator and glass bar and reception space. Beautiful, curious details are everywhere, from the grand staircase to the millennial pink and forest green painted walls, and the original artwork throughout. Covetable custom furniture from local designers features too: Daniel Emma Soft Chairs in blue and green, and a bench in fluro purple from Dowel Jones. There is a little rooftop terrace that peers out across the city lights, and the penthouse suite ("Big Albion") has a freestanding bath, four-poster bed and gleaming gold tiles.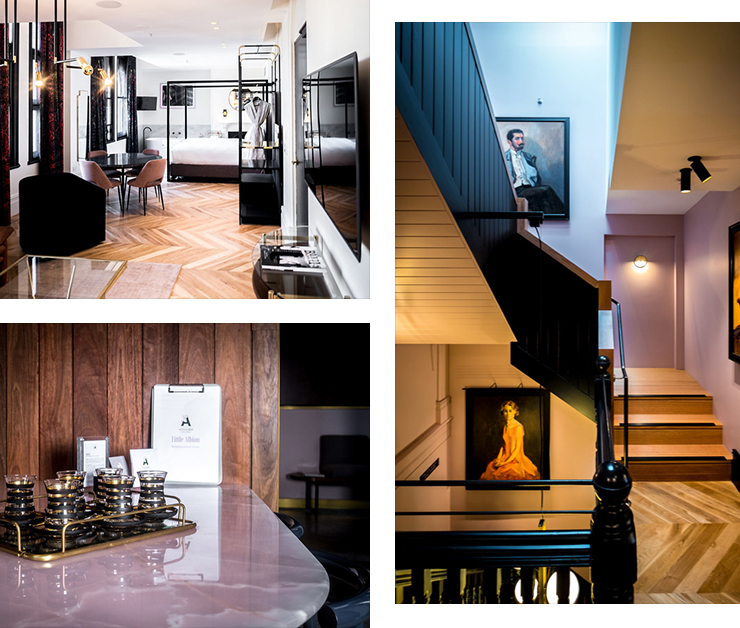 Other rooms on offer include fly-in, fly-out "Crash Pads", "Cosy" and "Classic" rooms, and larger "Master" rooms with baths and plush bay windows.
Rather than room service or minibars, you're encouraged to use the emerald-coloured kitchen as your own. Little Albion has a 24-hour honour bar system, meaning you can mix your own cocktails, grab a bottle of wine or some snacks, kick back in the bar or head to the secluded rooftop whenever you please. Or, order a specially curated selection of Surry Hills' finest via Uber Eats. It'll be delivered to your room with brass cutlery. A continental breakfast runs from 6.30am until 11am (croissants, GF granola, fresh orange juice and more), and the guest house is pet-friendly, so your four-legged pals can indulge too.
While most hotel chains see Airbnb as their greatest competitor, Little Albion has joined forces with the global accommodation platform. For all you ballers out there, you can book out the entire hotel exclusively via Airbnb for a cool $15,000 per night.
Basically, Little Albion is your dream house—a warm, whimsical mansion of luxury and local treasures.
Check out what we thought of the world's first Astrology Hotel in Sydney, here.
Image credit: Bob Barrett.