There's a brand new restaurant in Surry Hills and it doesn't mind being called a Mama's Buoi. This modern Vietnamese restaurant is serving up home-style Vietnamese dishes just like mama used to make (if your mama happens to be Vietnamese, obvs). Most of the recipes have come from founder Bao Hoang's mother, which have been passed down from generation to generation.
The welcoming space in this new Sydney restaurant has been designed by Giant Design, and seats 80 people inside and 25 in the courtyard. The open kitchen gives us a peek into the inner workings of Mama's Buoi—it's so quiet and calm in there, which is quite different to the high-stress kitchens we've seen on certain cooking shows. Great care has been taken to ensure you're able to hear your dining companions, even if the restaurant is full—which is always a big plus for us.
Looking at the food, simple and honest is the name of the game at Mama's Buoi. Here you can find the kind of dishes you'd get at your Vietnamese mate's family home, which is the kind of authenticity we love.
Co-founder and general manager, Quintin Mansell says, 'Vietnamese cuisine is sweeter and more aromatic than other Asian flavours, and a lot of it comes down to fresh ingredients—everything is very fresh. We have produce delivered daily so we can serve the best, freshest product'.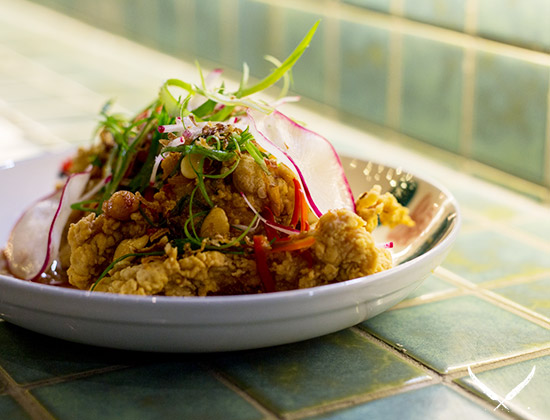 We start the meal with tofu on betel leaves. which are zesty and packed full of flavour. It's the kind of thing you eat with your hands and end up with sauce dripping everywhere. It's messy, but that's half the fun. The smoky eggplant is also a house favourite and we can see why. It's got that eggplant meatiness and is wonderfully smoky.
Next up comes the house-made Vietnamese pate, which, as with many Vietnamese dishes, has a French influence. Spread onto crackers, it's rich, tasty, and gone in mere moments. The savoury pancake with prawns is another hands-on experience where we wrap up the pancake in lettuce leaves and top with mint, carrot, and radish. We love the crunch and almost manage not to make a mess. Almost. But hey, this is casual dining and no one is here to judge.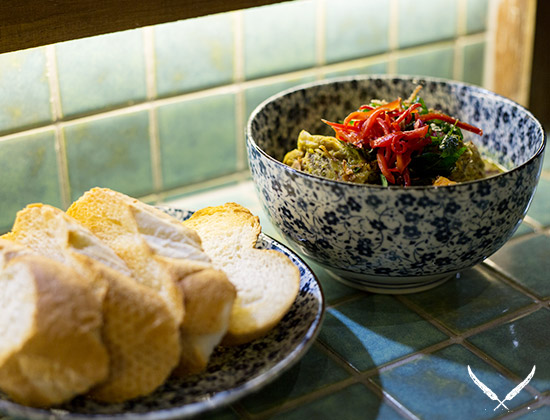 Onto mains, and we try the lemongrass chicken curry that's served with slices of French baguette on the side that's perfect for dipping into the flavoursome curry sauce. And then, just when we thought we were full, out comes the slow-roasted pork with crispy, crispy crackling. The slow cooking means the meat simply falls off the bone, and finishing it off in the wok makes for a beautiful crackling. It's succulent and straight up delicious but don't think you will be able to tackle this on your own—this one, like all the dishes here, is for sharing.
Finally, we have the desserts—all of which are $10. The taro donuts are crispy on the outside and soft and warm on the inside. We're told they take a fair bit of work, but each bite makes us think it's worth the effort. The banana with sago is a favourite of the table. The bubble-like nature of the sago and the warm banana make for a comforting dessert that feels like a hug from Bao Hoang's mother herself.
Not only is the food fresh and full of flavor at this new Sydney restaurant, it's well priced, too, which means you can get lunch and a drink and still have change from a $20. Dinner is much the same and if you decide to partake in a cocktail (which you definitely should), it will only set you back $15.
Mama's Buoi will soon open in Crows Nest followed by a restaurant in Darlinghurst, and if they're anything like the new restaurant in Surry Hills, we're in luck. So, if you're a fan of Vietnamese food, be sure to head down to this brand new Sydney restaurant—you won't be disappointed!
Looking for more of Sydney's best restaurants? Check them out here.
Image credit: Tanya Lee