Blink-and-you'll-miss-it! It's that time of year again, when the working year is done and the office heads out for a day of mischief that guarantees to see Steve from accounts dancing on tables. Still wondering where to head for a workplace function? Look no further, we've compiled a list of places to hold your office Christmas party in Sydney that will definitely make for a day/night to remember. Or one that you may want to forget.
Team Dinner and Drinks
Brooklyn Social | Surry Hills
Fried chicken, burgers oozing with cheese, hot dogs and over 40 gins to choose between… Sounds like an epic Christmas party to us! Brooklyn Social provides the perfect atmosphere for an end-of-year celebration that won't be forgotten easily.
Jekyll and Hyde | Darlinghurst
The original café-meets-wine bar, Jekyll and Hyde is a great place for a more sophisticated team dinner and drinks. With a menu designed for sharing and enough cocktails and wine to please anyone, Jekyll and Hyde can cater for up to 50 guests for a sit-down dinner or stand-up cocktail affair. If you have a smaller group, the rear courtyard fits 20-30 and has the perfect intimate atmosphere.
Bridge St Garage | CBD
A function at Bridge St Garage is one of the best ways to escape the bustle of the CBD without actually leaving. Offering an industrial space with five Argentinian-meets-American style set menus for functions, a creative cocktail menu and the famous 1.5kg Tomahawk steak challenge, there are plenty of reasons to make Bridge St Garage your Christmas Party must-do.
Private Functions
Janus Italian | Westfield Sydney
Italian food is all about family-style offerings and a great atmosphere, so bringing a team for a carb-filled feast is a surefire way to put a smile on everyone's face at the end of the working year. Janus sits on the top floor of Westfield Sydney and seats up to 150 for an Italian-style dinner, or 300 for stand-up cocktails and canapés. Rumour has it Guy Sebastian even made an appearance last year!
Pocket Bar | Darlinghurst
Sometimes it's easier to start your night where it will inevitably finish. Pocket Bar sits smack bang in the middle of Oxford Street and has a relaxed, quirky vibe that will have your group entertained until you decide to make a bar pilgrimage around the rest of Oxford Street. If you like a fun, small bar vibe with retro music and a great selection of cocktails, then you'll be right at home in Pocket Bar.
The Corner House | Bondi
One of our favourite venues in and housed in an old stop for the Bondi tram, The Corner House serve up seasonal modern Australian fare and craft cocktails for small and large groups. The incredibly sleek venue has its own main function space, known as The Lobby, which caters for up to 40 guests. Alternatively, groups are able to hire out the entire upstairs bar for up to 88 guests. For something smaller, you can also book out Panama House up the road for 35 people.
The Crow Bar | Crows Nest
A great northside option, The Crow Bar is a relaxed environment for functions that fit 10-80 people and suit any occasion. Food options feature a selection of their famous tapas (the smoked salmon, lime and chilli crostini is a must), as well as beverage options and a projector available for hire so guests can be reminded the potentially embarrassing things that were caught on camera over the past year.
Grandma's Little Bakery | Alexandria
This adorable little café and bakery features a Greek and Mediterranean-style menu alongside its home style cooking concept. The Alexandria café can easily cater for small groups of under 20 to larger parties of over 100. One of the best features is the buffet-style bar for breakfast or lunch, featuring a huge array of freshly prepared meats, sides, salads and sweets. Grandma's Little Bakery is fully licensed, so it's the perfect place to head for a family-style lunch with your team.
Button Bar | S

urry Hills

A Christmas party with a theme is always a good idea, and when you see Button Bar's slight nautical theme, you'll know you've hit the jackpot. Get your team to break out their peg legs and stripes and hit this small bar for a good time with a bottle 'o rum. Button Bar features one of the finest cocktail lists in town, so be sure to put plenty on the bar tab. If you want some grub when you're there, Button Bar will happily allow you to order in from local restaurants – they're just cool like that.
The Lock-In | Alexandria
If it's a more intimate affair you're after, the brains behind The Grounds of Alexandria have produced a cosy little den called The Lock-In that fits 20 people seated and 40 standing. Super exclusive and made solely for functions, The Lock In serves food from the nearby Potting Shed, and has a private bar for guests to enjoy tipples until the early hours. Sounds like a dream to us!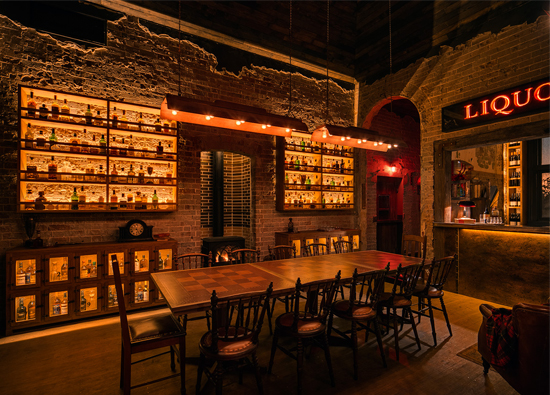 Mumu Grill | Crows Nest
Who doesn't love to bond over meat? Apart from vegetarians, that is. Famous for perfectly cooked steaks and fall-off-the-bone ribs and focusing on sustainable, organic fare and a delicious selection of tapas, Mumu Grill can cater for 12-120 people in the restaurant and 20 in a more intimate private dining room equipped with a sound system and plasma screen. Want more of an activity? Mumu also offer cooking classes with head chef and owner Craig Macindoe.
Searock Grill | Circular Quay
Ocean views, an incredible wine list and some of the best steak and seafood in Sydney? Tick, tick, tick. Searock Grill's private dining room accommodates 45 people for sit down meals, or 60 for a stand up cocktail party. A variety of great value menus are available so there's plenty of convenience and choice going around. If you're more into taking in a view, outdoor seating is available, as is wine and menu pairing if you really want to impress your team.
Activities
Chef Up! | Mobile
Sometimes it's fun to combine a Christmas party with a team building or bonding idea, and what better way to do this than with a personal cooking class from a French Chef who has worked in Michelin-Starred restaurants? The team at Chef Up! can cater a menu to your specifications or themes if you're looking for a specific cuisine, and have the option of hosting the class at Sydney Sea Life Aquarium or Wildlife Zoo in Darling Harbour. Just want to relax? No worries Chef Up! also offer a range of catering options including DIY stations held by the chef, so your party will go off without a hitch.
Megan Morton School | Rosebery
If maxing out a bar tab and losing your voice singing karaoke doesn't appeal to your office lifestyle, the Megan Morton School in Rosebery offer an array of classes for groups to enjoy. Started by Megan Morton, one of Australia's leading stylists, the school offers classes such as candle making, the ancient Japanese art of Shibori, a food photography and styling workshop, among others. Who said school had to be boring?
Paintball | Various Locations
Not only is this one fun, it gives you a chance to shoot your loud-breathing work frenemy in the bum without anyone questioning you. They're usually a little bit of a drive from the CBD, giving you plenty of time to mentally prepare, apply war paint and form alliances. Delta Force even provide a selection of snacks and drinks to keep your energy up before you shower and inevitably head out on the town to brag the night away.
Do you have any great suggestions for a Christmas Party in Sydney? Let us know in the comments!
Image credits: Bustle, Kit Baker, The Lock-In, Anita Wilhelm