With Father's Day just around the corner, we've done the hard work for you and rounded up the best gifts for the dad that fancies a tipple or two. From specialty tumblers to classy bar tools and even cocktail-inspired art, we've teamed up with Maker's Mark to serve up everything you should add to cart for the whisky-lover in your life.
Long Beach Bar Cart
Temple & Webster, $229
Step up his cocktail game by investing in a sleek bar trolley. The Art Deco-style cart comes in either gold or black, and features an antique brass-plated frame. With two levels of mirrored shelves to house and display his collection of booze, bottles and barware, this cart will add a touch of class and spruce up any room. Plus, its lockable castors mean you can easily wheel the trolley to a new location, like next to the dinner table… or by the bedside? Find it here.
Peated Whisky Candle
White Possum, $24
For those looking to evoke a hunting-lodge Mad Men vibe within their very own home, White Possum's Peated Whisky Candle is the perfect solution. Light this bad boy and it's almost as if you're sitting by a roaring open fireplace in a wood-paneled room, lounging in a leather armchair with a whisky in one hand and a cigar in the other. Sound decadent? Absolutely—but this version is only going to set you back $24. Plus, it's handmade and hand-poured in Melbourne using 100% Aussie soy wax. Bonus. Shop it here.
Kentucky Straight Bourbon Whisky
Maker's Mark, $45.95
The indisputable Rolls Royce of whisky, Maker's Mark have been going strong since 1954. The original Kentucky Bourbon Whisky incorporates distinct smooth flavours of vanilla, caramel and spice, with a woody oak-like aroma, made using the old-style sour-mash method and sealed with the iconic red wax. This memorable and versatile spirt can take you from an on-the-rocks moment to an Old Fashioned after work in no time. Head down to your local to pick up a bottle, or order one online here.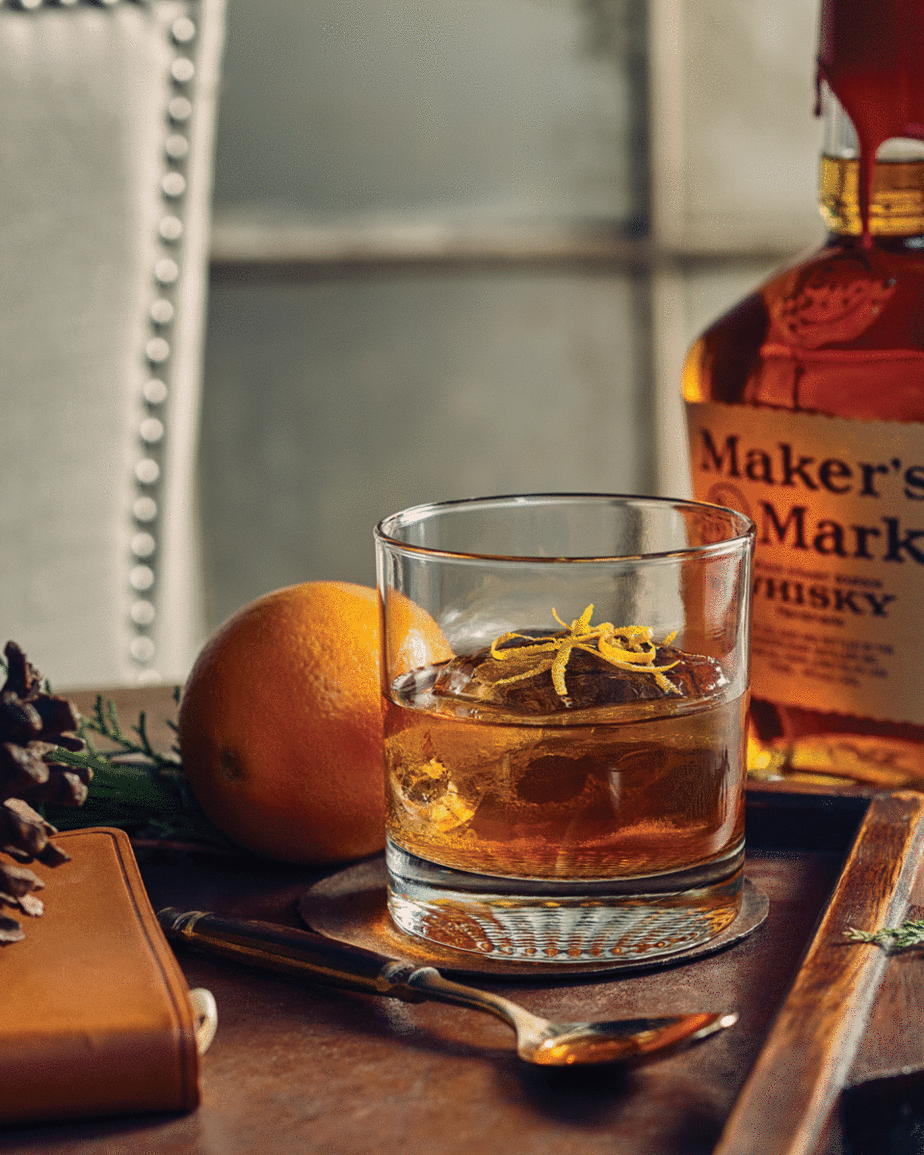 Whisky & Smoke Chocolate
Hey Tiger, $13.50
A match made in taste bud heaven, this rich dark chocolate is infused with smoke and whisky for a perfectly balanced flavour sensation. And the best part? You don't have to feel guilty tucking in, because, as well as being handmade in Australia and vegan; all of Hey Tiger's cocoa is ethically sourced in Ghana, and operates in partnership with the Hunger Project. Be warned though, it's so good that you might accidentally polish off the whole block in one sitting. Get your hands on a bar here.
Tank Whisky Decanter
Tom Dixon, $200
This uber-stylish decanter is as far removed from that hideous chunky crystal one you're set to inherit from your Great Aunt Mildred as can be. From British homeware guru Tom Dixon, a creator of "extraordinary objects," the design oozes sophistication as well as being exceptionally made. Made from 100% mouth-blown glass using a technically complex process to fuse the clear and solid black glass, each decanter is lovingly handmade in the UK from start to finish. Keen to own a matching set? Tom Dixon also makes an impressive range of glasses and accessories in the same colour and style. Check them out on Farfetch here.
Whiskey Stones
Areaware & Runa Klock, $69.95
Any serious connoisseur knows that you shouldn't add ice cubes to your whisky. Why? Because ice melts and dilutes the precious liquor. Thankfully, there's a clever (and chic) solution—rocks made from marble and soapstone that are stored in the freezer, and dropped into your glass when you fancy an ice-cold tipple. These fancy geometrically shaped rocks are crafted using all-natural materials and finished by hand. Pick up a set here.
Whiskey Master Class
Lew Bryson, $26.25
A perfect gift for the studious dad. This comprehensive and beautifully presented book will give him a chance to learn even more about his favourite subject. From exploring the history of whisky and detailing international flavour maps to tasting tips, distillation information, and interviews with master distillers and still makers, this extensive guide will be sure to impress even the most knowledgeable whisky-drinker. Prior warning for the gift-giver: prepare to be told a lot of fun whisky facts upon completion by dad. Buy a copy here.
24 Old Bond St Cologne
Atkinsons, $145
Throw out the Old Spice and revamp dad's image with a brand new scent. From London perfumery Atkinsons, who have been dealing in fragrances since 1799, there's no doubt that with over 200 years under their belt, they know what they're doing. This particular eau de cologne was launched in 2014, and contains top notes of juniper and cardamom, a heart of black tea and whisky and a base of Turkish rose. Heady yet subtle, the musky aroma evokes oak barrels and smokey campfires, so that dad can walk around every day smelling like what we imagine Don Draper does. Pick up a bottle from David Jones here.
Mid-Century Modern Bourbon Art
InkCasket, from $27.62
Brighten up dad's office or study walls with this handmade mid-century inspired print. The Cubist-inspired image depicts arguably the most famous whisky cocktail—an Old Fashioned (note the curled orange peel). And featuring soft rose, brown and navy tones, it'll seamlessly tie into any room's colour scheme. The print comes in six different sizes to fit a range of frame dimensions, and you can grab one from Etsy here.
Whisky Glass
Denver & Liely, $50
This is no ordinary tumbler. Recently voted the world's best whisky glass by Forbes magazine, the unique shape and design ensures that you get the absolute best out of your whisky. Given it was created by a mechanical engineer (and whisky enthusiast), you can rest easy knowing hours of research and prototyping went into this tumbler and snifter-style crystal glass. The simple yet stunning design takes into consideration airflow, temperature control and palette delivery to make every sip sensational. You'll also be supporting an Aussie owned and operated business with exceptional customer service, so there's that to feel good about too. Get your hands on one or two here.
Deco Barware Collection
West Elm, $139
Get ready for cocktail hour with this elegant barware set. Crafted from lush gold stainless steel and with a heavy marble base, it's even pretty enough for mum to let it sit on the countertop 24/7 (although that may be a little too much of a temptation for some). The collection includes the essentials—a double jigger, fruit knife, tongs and bottle opener, so that, even if his mixology skills are lacking, dad will at least look the part. Have faith, he'll be slinging Whisky Sours in no time. Find the set here.
Prepare to be crowned the best child ever and pick up a bottle of Maker's Mark for the old man this Fathers Day.
Editor's note: This article is sponsored by Maker's Mark and proudly endorsed by Urban List. Thank you for supporting the sponsors who make Urban List possible. Click here for more information on our editorial policy.