Since New York pastry chef Dominique Ansel invented his unique croissant-doughnut hybrid last May, it has become the most talked about dessert around the world. With countless Sydney pastry chefs equally as crazed for cronuts, we've round up some of the best in town.

Glenorie Bakery
The first to bring the cronut craze to Sydney, it was made famous on The Today Show when entrepreneur chef Robert Pirina cooked up his Italian interpretation of the New York import. Available at his bakery in Glenorie, croissant-style pastry is layered with butter, rolled and cut into rings and deep-fried, then filled with French vanilla custard cream and dressed with icing sugar—heavenly!

Brewtown Newtown
At this coffee-centric café, freshly baked cronuts sell out almost instantly, with flavours such as cinnamon, glazed, chocolate custard, strawberry jam, and its signature lamington creation. Boasting a crispy light texture, flaky layers melt in your mouth. Get in early to avoid the queue.

Bonjour Patisserie
A Wahroonga institution, here the cronut oozes delicious chocolate custard, topped off with a glistening chocolate glaze and almond flakes. This layered pinnacle of sweetness is certainly worth the drive north side!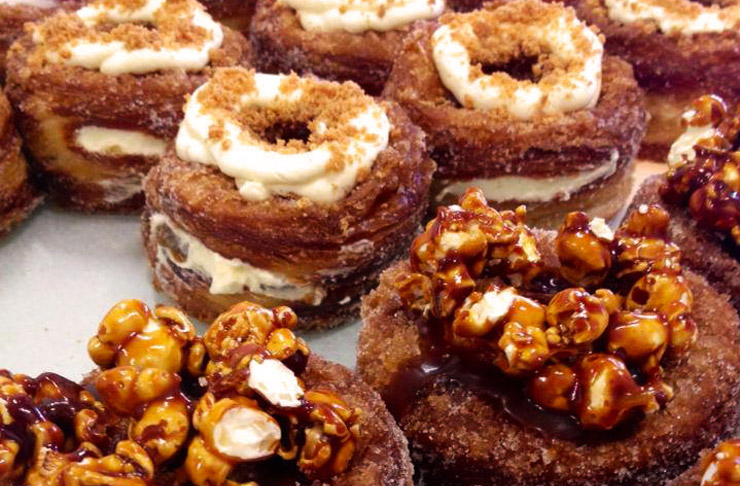 Baked Patisserie
Visit Baked Patisserie at Como Markets or at its Kirrawee outpost for a delicious selection of cronuts, featuring flavours such as: coconut mouse and mango; banoffee pie; caramel, honeycomb and brownie; and popcorn and apple crumble.

Adriano Zumbo Pâtisserie
The 'zonut', Zumbo's interpretation of the New York sensation, sees layers of pastries deep-fried then injected with apple custard, lathered with fondant glaze and finished with a peppering of salted shortbread pieces—the result will blow you away.

Ramsgate Organic Foodies Market
Amongst a plethora of organic goods and health foods, sits pastry chef Walter Becker's mouthwatering cronuts. Take your pick from the tasty classic cronut with a dusting of sugar, or one dripping with creamy custard.

Top image: Foodness Gracious