If you're keen to make like Augustus Gloop this week, then you've come to the right place. And whether you're ready to dive headfirst into rich milk chocolate decadence, hazelnut praline or vegan treats to satisfy those Easter cravings, we've got you.
From handmade artisan chocolate boxes to chocolate grams with boozy sides, there are some epic chocolate businesses offering up home delivery, which you absolutely ought to get around this Easter.
Behold, Sydney's very best chocolate—delivered.
Haigh's
Various Locations
This iconic Aussie chocolatier has an enormous range of fancy Easter treats to brighten up your month. As well as all your regular milk chocolate eggs and mini eggs, Haigh's has chocolate chickens, hens and the legendary bilby in a few flavours too. You can also nab Haigh's classic choccie Murray cod. And while delivery before Good Friday has officially closed—Haigh's has intro'd a click and collect option if you need to get your fill in over the weekend. More info is here.
Just William
Paddington
This adorable chocolate haven on one of Paddington's sweetest streets has a range of beautiful chocolate boxes you can shop online that are definitely an upgrade on your standard Cadbury bunny. There are half eggs filled with Just William's truffles, themed boxes, pouches and tins—the range tends to sell out so hop to it! Just William has flagged their deliveries will be limited during the COVID-19 crisis—and they've advised you call ahead to discuss: 02 9331 5468.
Kakawa
Darlinghurst
Social distancing is tough. Make someone smile over the Easter break with Kakawa's incredible avocado egg: a saffron-infused white chocolate avocado shaped egg (it looks like an avocado, perfectly sliced in half). Kawkawa is really the king of chocolate art in Sydney—other Easter-themed items include the "hot cross loaf", which is a hot cross bun spice-infused milk chocolate creation, designed to resemble an actual four-pack of hot cross buns. There's also chocolate salami, which is off-theme—but definitely worth a mention. Suss the full range of special treats out here. Delivery and pick up in-store is available.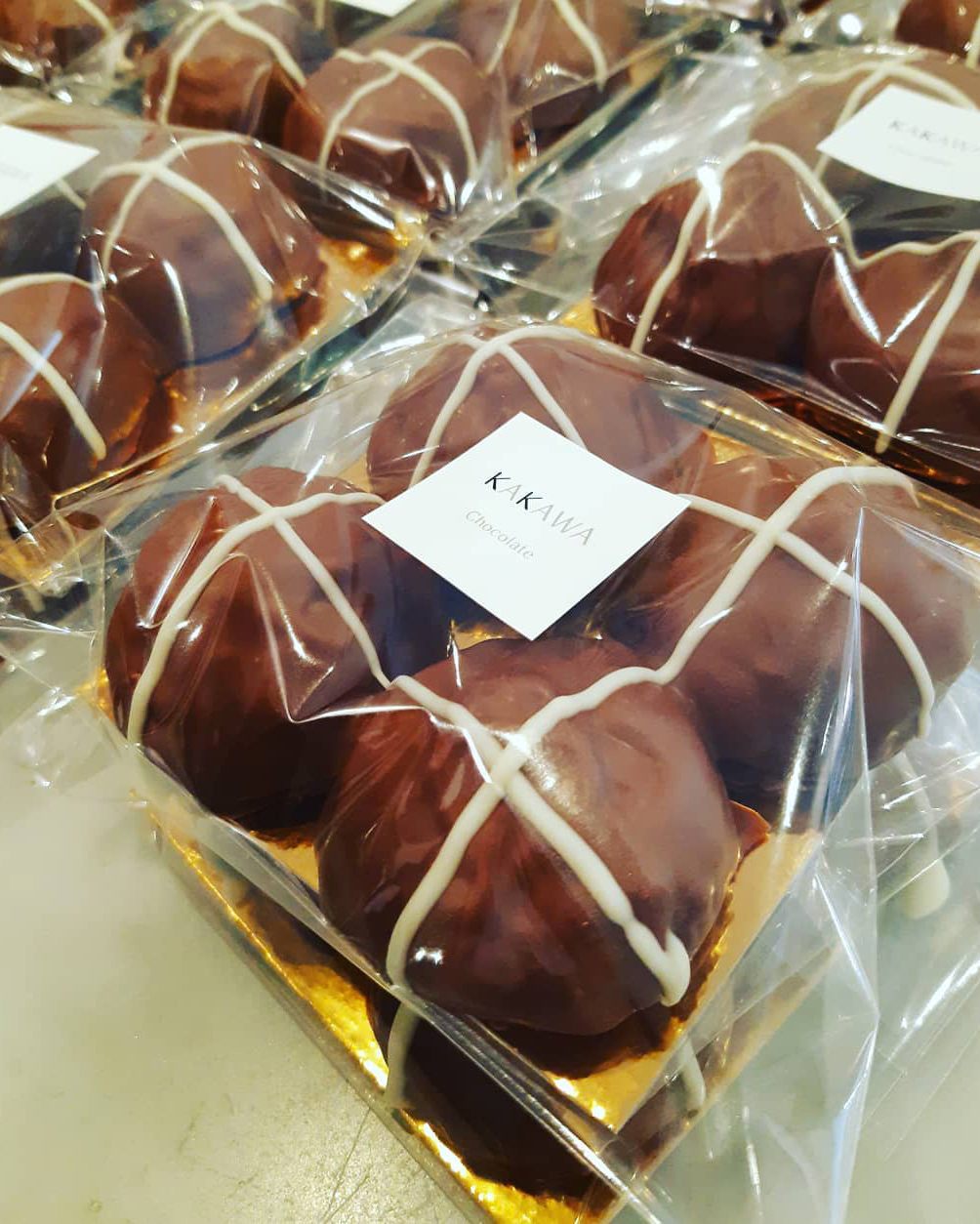 Belle Fleur Chocolates
Various Locations
Belgian's are very good at chocolate. Belle Fleur draws on four generations of fine chocolate making from the ter Heerdt family—and their Easter treats will not disappoint. We love the "create your own" chocolate box option, which allows you to fill it with all your faves, but their praline mini bunnies and enormous Easter hamper are also well worth checking out. Delivery and pick up is currently available.
Adora Handmade Chocolates
Various Locations
If you haven't heard of Adora Handmade Chocolates, let us school you on one of Sydney's best chocolate shops. Apart from having a number of sweet outposts across Sydney (which includes Earlwood, the CBD, Parramatta and Double Bay), Adora is famous for nailing truffles and fresh cream chocolates without any added preservatives or artificial flavours. Your go-to order here has to be the Belgian Callebaut chocolate. On the Easter side of things, you can scoop on hazelnut rabbits, shortbread treats, a rocky road half-egg and even hot cross bun-flavoured chocolates.
The Chocolate Box
Mascot
The Chocolate Box is an Australian-owned family company who have been creating the good stuff for over 60 years. For Easter, you'll find hollow foiled chocolate eggs (in bulk if you need), chocolate Bilbies, hazelnut praline birds, dark chocolate Easter eggs sitting at 130 grams and even the staple Lindt gold bunny if you're a sucker for classics. And the best part? The crew here actually ships Australia-wide.
Chocogram
Alexandria
If it's personalisation you want delivered to your door (or someone else's for that matter), Chocogram is your absolute jam. From "chocolate text messages" to creating your own chocolate box (packed with anything from champagne and strawberry to salted caramel fillings), printed chocolate photos, a chocolate balloon dog, a white chocolate egg box (vegan options available) and a heap more novelty creations—Chocogram is a chocolate lover's dream.
Lollylicious
Various Locations
Lollylicious is a chocolate delivery service you absolutely need on speed dial. Not only does the team here give you same-day delivery (should you place an order before 9.30am) but they also turn your typical chocolate delivery completely on its head. Think chocolate bouquets, boozy choc hampers (because champagne is always a good idea), Nutella deliveries and sweet deliveries featuring beer and whiskey. You'll love this one for the variety and we highly suggest you shoot a delivery to your own front door.
Coco And Bean
Austral
Two words: brownie bunnies. Yep, Coco and Bean is bringing your wildest Willy Wonka dreams to life with the decadent choc creations you absolutely need in your life. Here, you'll get to order chocolate brownies, Belgian rocky road, rum balls, raspberry rose brownies and even gluten-free slabs too. If you're keen to go all in on the chocolate delivery-front, feast your eyes on the ultimate Easter dessert box (filled with biscotti, meringue kisses and chocolate tartlets), loaded Easter brownies or a mega chocolate gift bag.
Oh!Boo
Barangaroo
For artisan chocolates like no other, you'll want to order the entire chocolate range at Oh!Boo. Maître chocolatier Fanny Chan has combined her Philippine heritage with the finesse and sophistication of the French way of making chocolates. Chan has mastered a process called "layering", where complementary and sometimes contrasting flavours are layered with the chocolate. Here, you'll want to stock up on the Mona Lisa-equivalents of all Easter eggs, made from handmade milk chocolate, glazed to shine and then covered with beautiful art. Oh!Boo does home-delivery for anyone within a 20km radius of its Barangaroo outpost.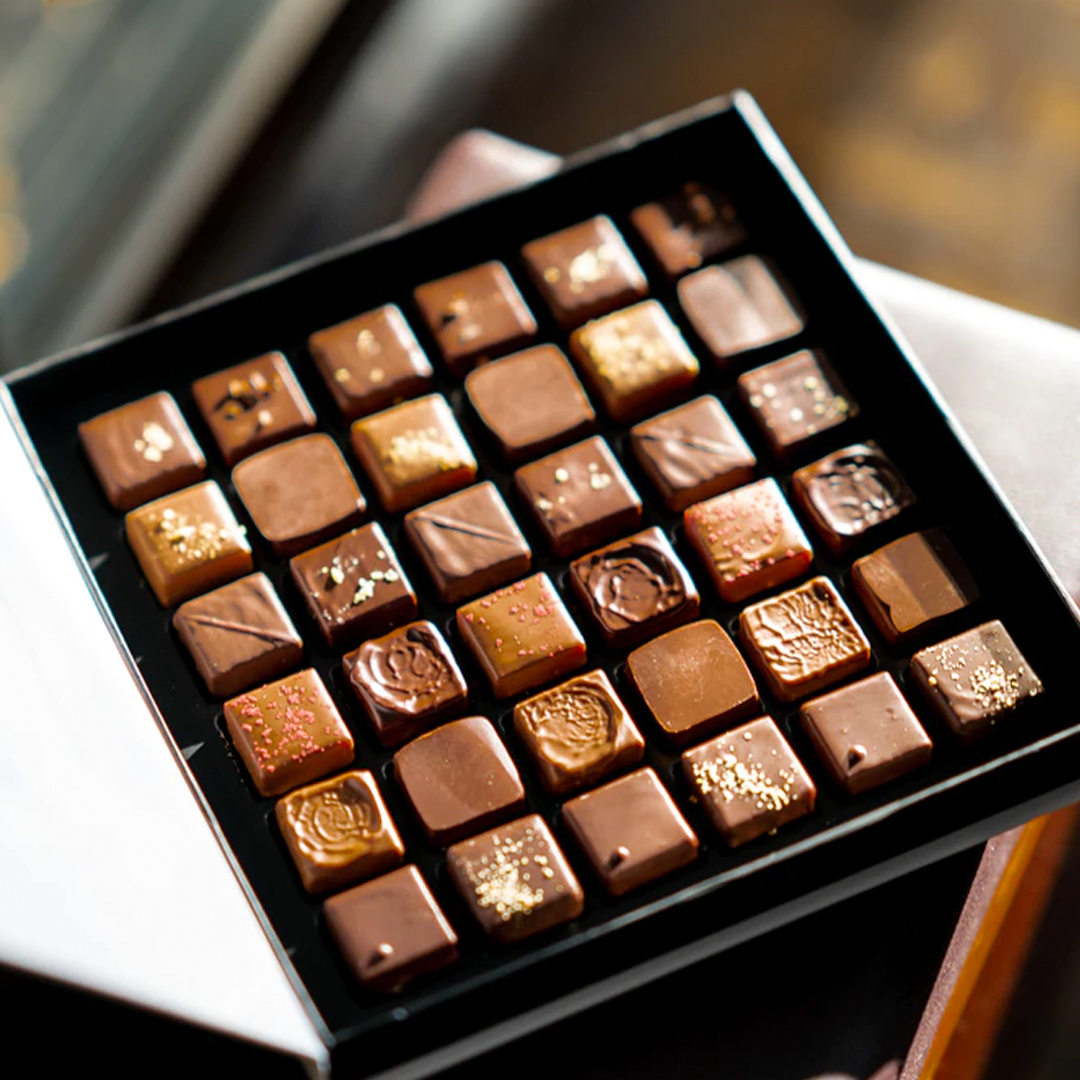 City Chocolates
CBD
City Chocolates is home to several Australian artisan and organic chocolate brands, which means you're in for one hell of a sugar-induced food coma. Featuring a curated list of handpicked products that are handmade by boutique Australian chocolate makers, the treats here are supplied by ethical, sustainable and innovative chocolatiers in cocoa cultivation around Australia. There's a number of hampers and boxes you can get home delivery on which include bars from makers like Gabriel Chocolate (Western Australia), Jasper & Myrtle (Canberra), Monsieur Truffe (Melbourne) and Bon Bon Fine Chocolate (NSW).
Need hot cross buns? Head over here. And here's a bunch of other things you didn't know you could get delivered to your door.
Image credit: Belle Fleur Chocolate, Just William, Kakawa, Ali Lanenga, Merve Aydin, Agor Lyfer