If you're an out 'n' proud Sydney sider like us then we're sure you're familiar with the whole staycation thing. Right? We thought so. Because why would you stray too far from the beautiful beaches, luxe rooftop bars and next level restaurants for a couple of days when you could just skip the commute and stay in Sydney instead?
A Sydney staycation is the best way to holiday for a little while, without a) exchanging currency b) hunting down your passport, c) losing phone reception. And lucky you, Airbnb is running hot with some seriously fabulous holiday rentals in and around the Sydney CBD.
Go on, treat yourself.
A Luxe Colonial Terrace House In Millers Point
Here's a rarity for the Sydney CBD—an actual house. And a terrace house with four bedrooms, no less. This Miller Point Airbnb rocks some serious vintage vibes, from the elegant master bedroom to the handsome standalone bathtub. There's a slick set up in the fully-equipped kitchen, and the dining room opens out to a glorious sunny patio—meaning A-plus dinner party vibes. Plus, the house is opposite Observatory Hill if you're keen for hill-climbing and star-watching.
Quirky Beachfront Apartment At Bronte Beach
Melbourne can harp on all it likes about its laneway cafes, but we have beaches, dammit. This quirky little one-bedder looks directly out to Bronte Beach for prime ocean-gazing and sea-air-inhaling. There are cute decorative touches sprinkled throughout the modest flat — floral bed spreads, a Van Gogh print in the bedroom, and any place that uses Aesop products gets a big tick from us.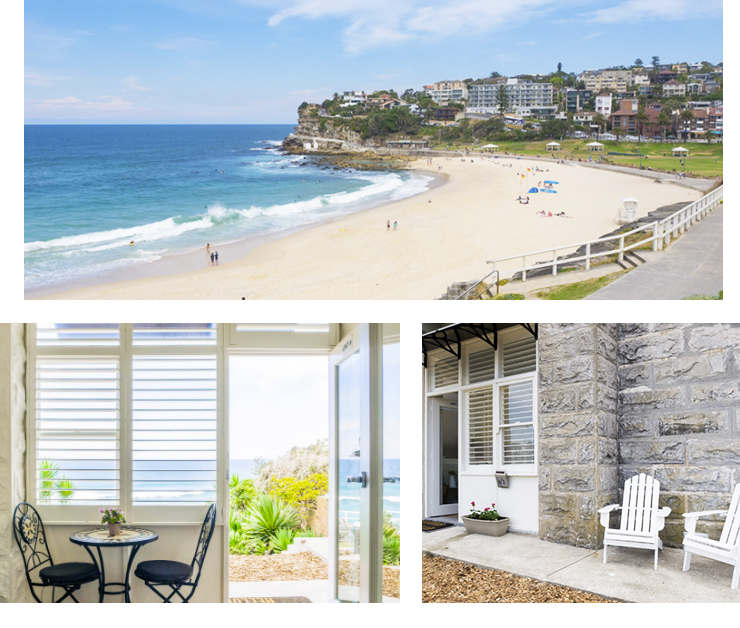 Your Own Private Jetty Wharf In Mosman
Count them — 270. That's how many degrees are in your panoramic view of Sydney Harbour from this Mosman gem. If you fancy getting closer to the harbour action, you can traipse down the gardens to the waterfront or your own private jetty. Geez. If that's not enough, the private sunny balcony is perfect for alfresco dining. When we say this is prime harbourfront real estate, we're not kidding around.
Modern Apartment With Darling Harbour Views In Pyrmont
You better practise your whistle, because you'll want to let out a low one when you check out this pad. The lounge room is where it's at for uninterrupted views of Darling Harbour, Sydney Tower and the rest of our 100% gorge skyline. Your eyeballs will thank you. Now let's talk about the bathroom. Heated towel racks. Heated floors. Rain shower...and a bidet. If that's not luxury, we don't know what is.
A Penthouse With City Views At Darling Point
Penthouses are reserved for the incredibly wealthy. Think Gossip Girl's Blair Waldorf, American Psycho's Patrick Bateman, and Christian Grey from Fifty Shades. All damaged characters, for sure, but there's no denying they hung out in some pretty sweet pads—and so can you! This Darling Point penthouse has sweeping views of our city skyline that you can view from the spacious living room or balcony, or step out to the outdoor common area to spy the Harbour Bridge. It's close to the Redleaf ocean pool too, if you fancy a dip.
Looking for the best Airbnbs in NSW? Read this.
Image credit: via Airbnb