It's no secret that we're obsessed with hunting down Sydney's hidden gems. We're always on the pursuit for the next rad café to call home—a welcoming hub with good vibes and even better food. And guess what? We've found it. Meet Rising Sun Workshop, Newtown's best-kept foodie secret and hands down, one of the coolest cafes you'll find in Sydney.
Cruise over to Newtown and you'll find Rising Sun Workshop in all its glory. Not only is it a stellar spot to grab breakfast, lunch or dinner, it doubles as a communal motorcycle workshop, where motorcycle enthusiasts can work on their motorcycles before having a solid feed. The space itself is decked out with huge communal tables and comfy leather couches—perfect for officeless creatives or if you need a dinner venue to fit your whole crew.
But it's the food at Rising Sun Workshop that needs your attention. It's largely influenced by the flavours of Japan, showcases the best of local produce and will 100 per cent rock your taste buds, morning, noon or night.
Here's what you should be chowing down on at Rising Sun Workshop.
Your mama has always told you that breakfast is the most important meal of the day and she ain't wrong. From 8am, Monday to Sunday, Rising Sun Workshop serve up the brekkie goods. We're suckers for their Hokkaido milk buns loaded with bacon (or mushies!), egg, cheese and kimslaw, and the sticky date banana loaf with crème fraiche and breakfast dust is a sweet tooth's dream.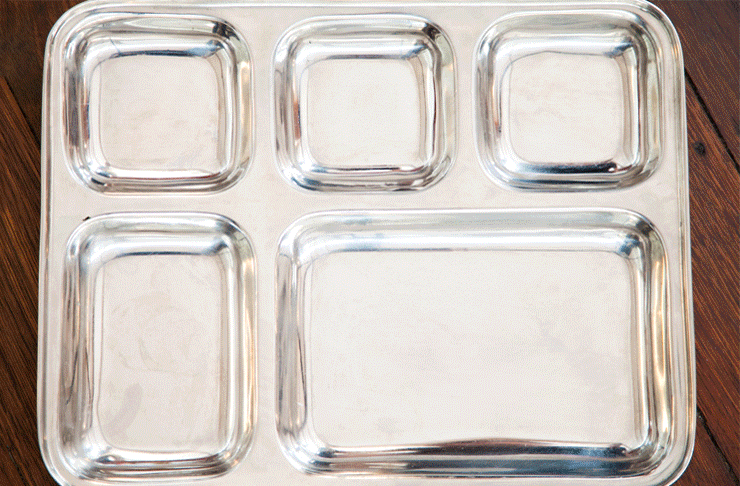 Keen to branch out? Tuck into a prison bento of rolled egg, pickles, miso soup, sesame stalks, silken tofu, yoghurt and umeboshi rice—it looks rad and tastes damn good, too. The star of the breakfast show, however, is the breakfast ramen. Yep, Rising Sun Workshop merge buttered toast broth, bacon, egg and tomato with slurpable noodles and it is glorious. Breakfast isn't breakfast without a silky smooth coffee and, luckily, Rising Sun is home to some of the best coffee around. These dudes take their caffeine seriously—there's even a rotating roster of espresso and filter coffee from all across Australia that changes weekly.
Come lunchtime, Rising Sun Workshop get their ramen game on…big time. Choose between The Darkness, The Light and The Monk, and get ready for your soul to be warmed. The Darkness is a moreish mash-up of chicken, pork, shiitake and smoked hock broth topped with korobuta (pork) belly and other tasty delights, while The Monk keeps things vego via miso broth, corn and shroom.
Banh mi fans will be pleased to hear that Rising Sun have nailed it. They take a square bun (no baguettes here) and pile it high with grilled korubuta, pigs head and lime terrine, pâté, pickles, coriander, chilli and mayo for a whole new banh mi feasting experience. If you'd rather nibble away on smaller plates, Rising Sun have you covered with gyoza, daikon with XO crumbs and smoked eggplant omelette. Plus, we dare you to try and resist their sweets cabinet—the dark choc and ginger cookies are something spesh.
Rising Sun Workshop are open for dins from 6pm Thursday, Friday and Saturday aka. the best nights to abandon the kitchen and let someone else do the cooking. Everyone knows that sharing is caring, including Rising Sun Workshop. There isn't much better than rounding up your food-lovin' mates and ordering one of everything (and lots of beer and wine). Luckily, Rising Sun have craft beer and wine on tap alongside alcopops (heck yes!) and top-notch Aussie vino by the glass or bottle.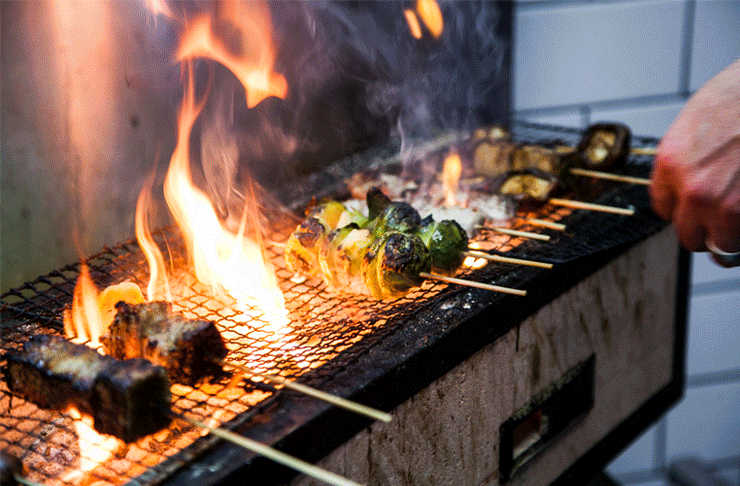 Food wise, their dinner menu is on fire—literally. They cook chilli brined chicken thighs, burnt salad, octopus, korobuta belly and secret ramen over charcoal to make them smoky and full of flavour. Pro tip: don't share the eggplant katsu burger—you'll want one of those to yourself.
Editor's note: This article is sponsored by Rising Sun Workshop and proudly endorsed by The Urban List. Thank you for supporting the sponsors who make The Urban List possible. Click here more more information on our editorial policy.
---
Image credit: Federica Portentoso