Sydneysiders, if you haven't been to Melbourne, it's time to book a flight down.
Between flaming cocktails (our bartenders are risking life for your Friday night drink), world-class croissants (baked at 4am every morning) and an events calendar that rivals NASA plans, you'll need more than a guidebook to explore Melbourne like a local.
We teamed up with Holiday Inn Melbourne on Flinders (who have recently revamped their gorgeous CBD hotel), to bring you all the ways to explore Melbourne.
#1 Choose Your Staycation Spot Wisely
Treat yourself to a full weekend in Melbourne complete with everything you need for the ultimate staycation. Along with giant smart TVs, 24-hour room service and floor to ceiling windows, Holiday Inn Melbourne on Flinders is located in one of the best spots of the city, between Etihad Stadium and Flinders Street.
Our pick is the Spencer Suite, which features a separate lounge and dining area for a home away from your shoebox of a rental house. Urban or Poolside rooms feature panoramic street or pool views, in case you're planning to leave the exploring for later in the morning.
Sirocco has launched their 'Sir Occo loves dude food' menu and are dishing out $10 meal specials erryday from 12pm-3pm, in case you're planning a ~real~ sleep in.
#2 Immerse Yourself In The Footy Culture
Since you're around the corner from Etihad Stadium, get off the couch and buy yourself tickets to the footy. A key cultural experience in Melbourne, BYO footy friend and chips.
#3 Go Beneath Driver Lane
A sliver of a laneway off Little Bourke Street, Beneath Driver Lane is largely unsigned. Look out for a buff-looking gentleman in front of a door (vague, we know), and descend down the stairs for an extensive cocktails menu. 160 whiskies, 70 rums and wines can also be paired with a selection of rich bar snacks (charcuterie, chorizo or burrata). Order one of everything.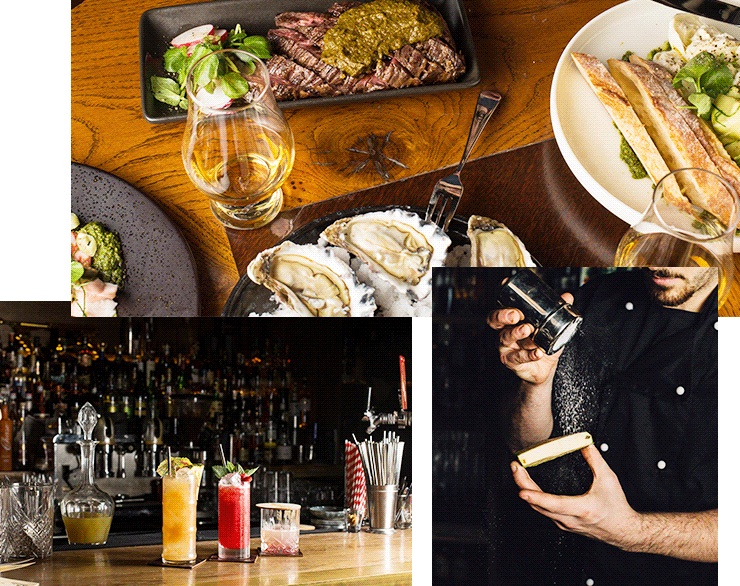 #4 Stick Flowers On Art At The NGV Triennial
Not only is the NGV Triennial totally free (more dosh to spend on room service, yes please), this interactive contemporary arts exhibition is unlike any else in Melbourne. Across four levels of the National Gallery of Victoria, the Triennial touches on architecture, animation, performance, film, painting, drawing, fashion design, tapestry and sculpture.
#5 Visit The Part-Greenhouse, Part-Bar—Archie Green
Part-greenhouse, part-bar, part-lunch stop, Archie Green is located just past Southern Cross Station and just around the corner from Holiday Inn Melbourne on Flinders. Pot plants of every variety are dotted throughout the space. Paired with soft green lighting and a mouthwatering all-day menu, this Archie is hard to dislike.
#6 Try Axe Throwing
Maniax in Abbotsford is the first of its kind. Originally from Sydney, participants throw weighted axes at a timber wall for the ultimate stress relief sesh. It's totally safe and you can join group or solo sessions.
#7 Devour Dessert At Supernormal
Prawn and chicken dumplings with chilli vinegar sauce, lobster rolls and beef tartare are all excellent dinner options at Supernormal. Make sure to order the poached soft meringue with sheep's milk yogurt and apple.
#8 Listen To Live Music At The Toff
Known as the musical hub of the CBD, The Toff hosts a line-up of local and international acts in Curtin House. Located on the second floor, there are booths (order up a Thai storm), an outdoor area and balcony facing Swanston Street.
#9 Take A Train Down To The Fairfield Boathouse
Drive or catch the train down to the Fairfield Boathouse. Multi-lane roads give way to a riverside green space. Make a beeline for the boathouse, which runs alongside the Yarra River. Traditional Devonshire scones and tea, and a simple brunch menu are on the cards every day.
#10 Pat Piglets At The Collingwood Children's Farm
Bring along a tenner for entry into heaven. Open every day, the Collingwood Children's Farm's petting zoo also includes daily cow milking and guinea pig cuddling. Squee!
#11 Eat Your Weight At HWKR
Melbourne's newest destination for Asian street food, HWKR is inspired by the hawker centres in Singapore and Malaysia. A rotating line-up of vendors will change seasonally, however, Koi Dessert Bar by Masterchef's Reynold and KHAO by Rice Paper Scissors are there until April.
#12 BYO Blanket To A Rooftop Cinema
Melbourne has no shortage of rooftop cinemas, from the puppy-friendly QV Cinema to the cocktail-jammed Rooftop Cinema. Bring a blanket and enjoy the view.
#13 Get Intimate At Ishizuka
Ishizuka has just 16 seats underneath Bourke Street. The space, which is all blonde timbers, industrial black and exposed concrete, is as quietly refined as the seasonal menu. 12 courses (give or take on the day) are served kaiseki-style, which follows a rough degustation formula of appetisers, soup, sashimi, cooked or grilled dishes, rice and dessert.
#14 Grab Takeaway From Eastside
Melbourne has a crush on American sandwiches at the moment. The latest to join our list of joints is Eastside, inspired by the US east-coast sandwich scene. Look out for pastel pink walls and a small sambo menu to die for.
#15 Have A Picnic In The Botanic Gardens
A dedicated space for rare and stunning flora, The Botanic Gardens is one of the greenest spaces in the city. Pack a picnic (your concierge can direct you to all the cheese in Melbourne) and set up for an afternoon under the sun.
Image credit: The Urban List.
Editor's note: This article is proudly sponsored by Holiday Inn Melbourne on Flinders and endorsed by The Urban List. Thank you for supporting the sponsors who make The Urban List possible. Click here for more information on our editorial policy.