Queenslanders are known for being good at lots of things—rugby league (ouch), swimming and sunny weather—but killing it at the hospitality game? Not so much. But we think it's high time Queensland shook off this reputation. Brisbane has upped its culinary game over the last few years and is now home to some schmick spots for eats and drinks.
So next time you head up over the border to Brisbane consider it a good time to test out the wares. From awesome outdoor drinking spots, to brunch food that is pushing the envelope, to one of the most picturesque workout spots in the country, here's where to hang next time you're in Brisbane.

Morning, noon and night, Brisbane's best cafes and restaurants are serving up some pretty epic food. Here's what we love:
Gauge
Award winning Gauge in South Brisbane is made for those who like their dining experience with a twist. Open primarily for breakfast and lunch, we're partial to the 'coco pops for adults' dish that boasts honey-roasted buckwheat, banana, whiskey, cacao and chocolate milk. That's healthy, right?
Morning After
Newly-opened West End fave Morning After is known for its epic breakfasts, good coffee and cool atmosphere. The pick of the bunch is the decadent Breakfast Carbonara, which is delicious whether you have a hangover or not.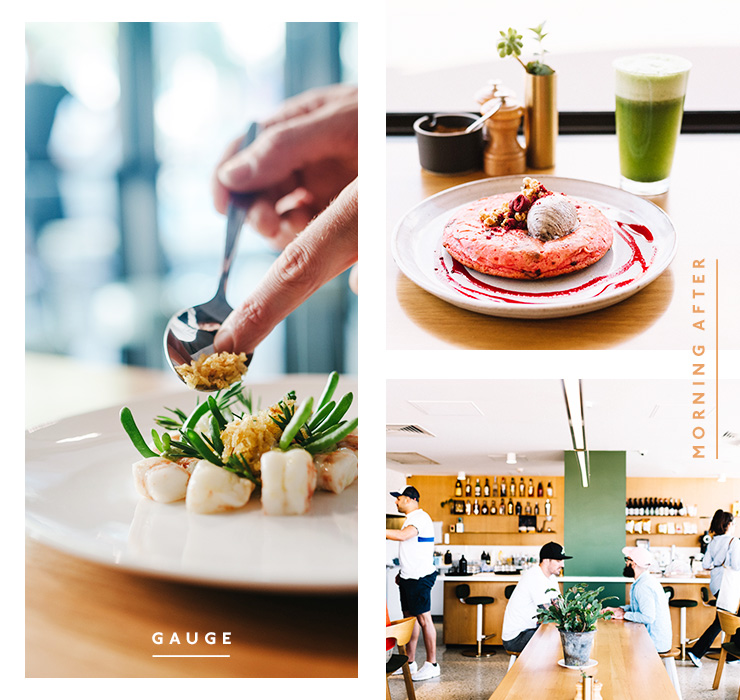 Sourced Grocer
If you like awesome food, but in a chilled atmosphere, Teneriffe gem Sourced Grocer is also a great option for brunch. Their baked porridge with quince and clotted cream is a dream come true, as are the cabbage pancakes with charred Brussel spouts and poached eggs.
Gerard's Bistro
Nailing Middle Eastern meals with a modern twist, Gerard's Bistro in New Farm is consistently among Brisbane's best restaurants. Breakfast at Gerard's calls for the Shakshouka Eggs, while dinner is not complete without the famous Bekaa Wings or the Slow Cooked Brisket.
Eat Street Markets
If you like variety and choice, save up all your meals and head to dinner at the Eat Street Markets in Hamilton. Here you'll find delights including freshly-shucked oysters, next to Japanese Pizza, next to Golden Gaytime doughnuts, next to World Famous Funnel Cakes. What the hell are they? Basically it's like every dessert you ever wanted rolled into one. The markets are open every Friday and Saturday night.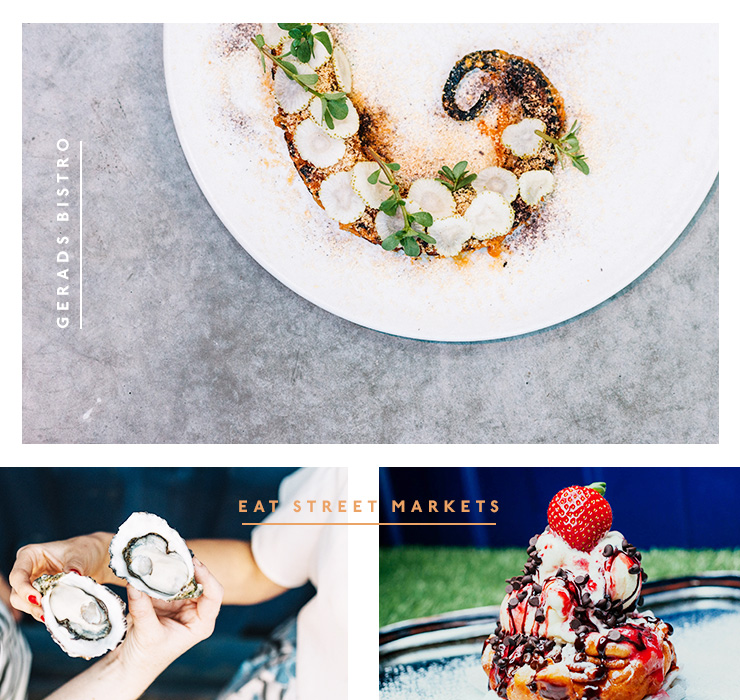 Bonsai Botanika
Bonsai Botanika in Brisbane's CBD is essentially an ode to Japan. Go here for spectacular ramen and green matcha cakes for dessert.
e'cco Bistro
Longstanding Brisbane icon e'cco Bistro is a sure thing for friendly service, beautiful food and a relaxing atmosphere all in one. Dinner favourites include the duck breast, poached quince and raddichio; desserts winners include the deconstructed cheesecake with rosewater sorbet. And the wine list is exceptional.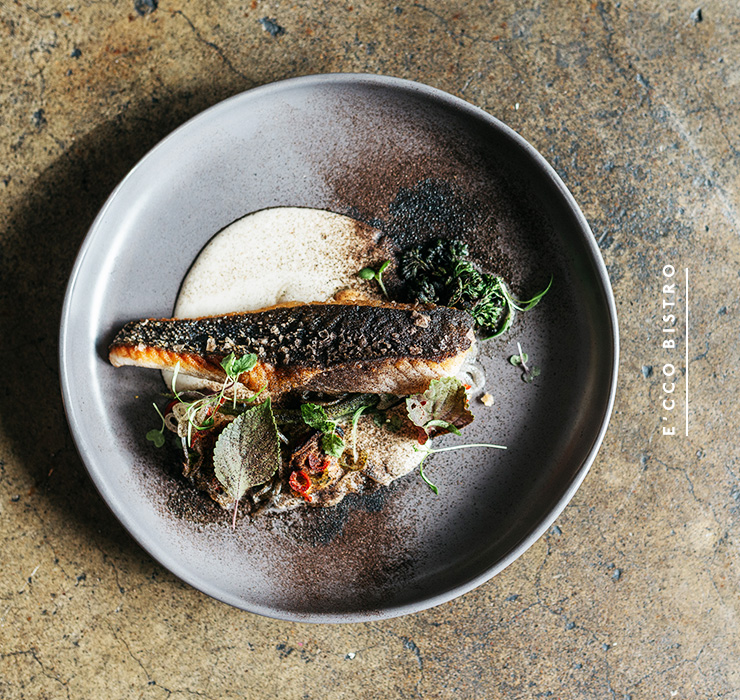 Brisbanites take their drinks in beautiful settings and you should too. Here are four of Brisbane's best bars to enjoy dranks in.
Barbara
Hip new bar in Brisbane's Fortitude Valley, Barbara, is the place to go for cool cocktails, craft beers and DJ sets most nights. The cutest part is they have a 'shouting board' where you can pay for a mate (who's not there). Their name gets written on the board and next time they visit the bar, they get surprised with a free drink!
Bar Alto
The deck of Bar Alto, which captures a light breeze from the Brisbane River, is one of the most beautiful and relaxing drinking spots in Brisbane. It's a triple whammy of awesomeness because it's housed in the super cool arts venue the Brisbane Powerhouse and sits within one of Brisbane's most beautiful parks, New Farm Park.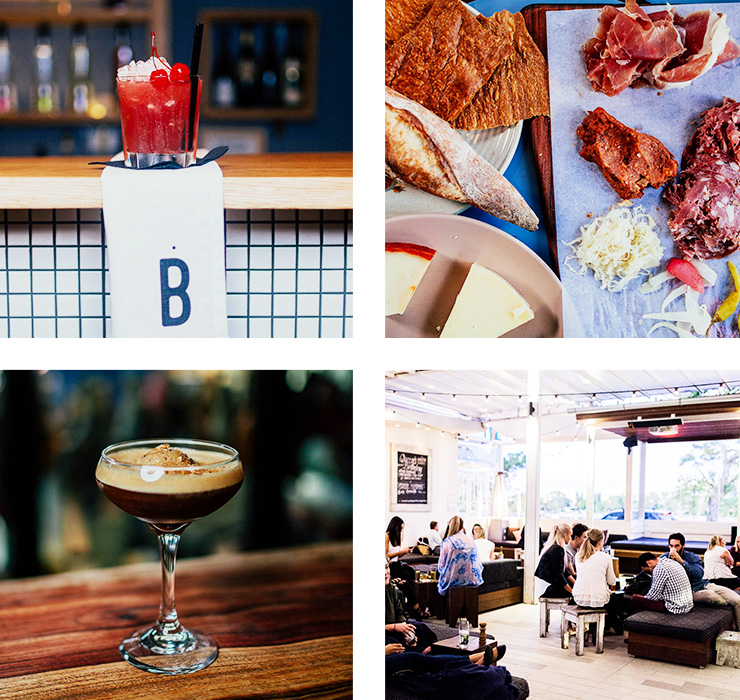 Gerard's Bar
Gerard's Bar in New Farm offers one of the best selections of cheese, charcuterie and wine in the city. The venue itself, which it set up with plenty of outdoor space and big pillows under the trees, always makes the most of Brisbane's consistently stellar weather.
The Regatta Hotel
Set in a beautiful old Queenslander facing the Brisbane River, the Regatta Hotel in Toowoong is the traditional Queensland pub. Add in an excellent selection of beer and great pub food and it's a place that works equally well for a Sunday session with the crew, as a chilled out beer for one.

Looking for the best things to do in Brisbane? Here are some of the best spots to get some local culture.
The Triffid
Cool music venue The Triffid in the inner-city suburb of Newstead is Brisbane's premier live music venue and bar. With an enviable line up of gigs and an equally great beer garden, The Triffid is always a good time.
GOMA
Brisbane's Gallery Of Modern Art is a cultural icon for good reason. Producing both quirky and quality exhibitions (recents include Cindy Sherman, David Lynch and Sally Gabori) there is always something amazing to check out. Hot tip? The GOMA Cinematheque specializes in incredible films you rarely see anywhere else.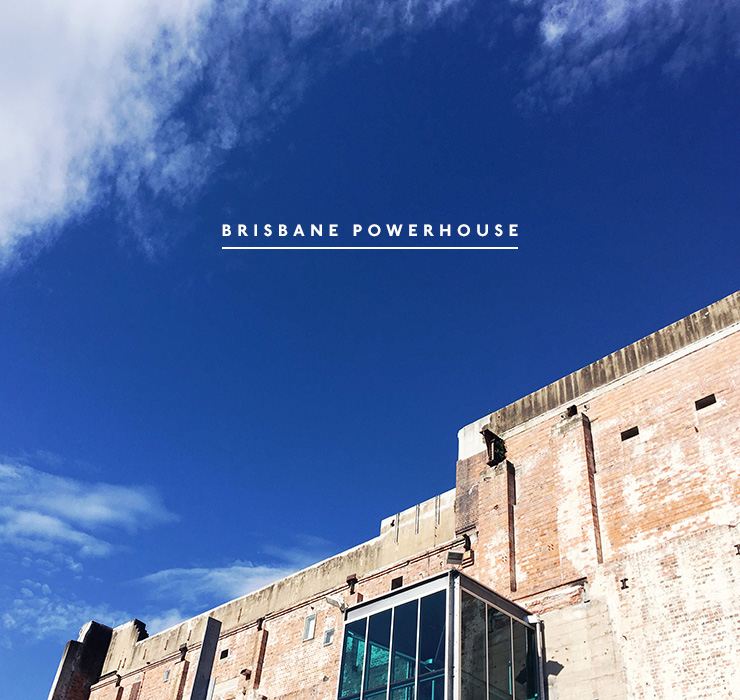 Kangaroo Point Cliffs
Every trip away requires a bit of exercise in the mix so may I suggest a walk at Brisbane's Kangaroo Point Cliffs? Not only is it one of the most beautiful spots in Brisbane (think sparkling water fringed with bright pink bougainvillea) the famous 'Kangaroo Point Stairs' are also one of the most physically challenging.
Brisbane Powerhouse
The Brisbane Powerhouse is known for its comedy gigs, photo exhibitions and thought provoking shows. I'm looking forward to the Don Watson discussion about the US Presidential Elections this September that is sure to be informative, funny and absurd all at once.
Looking for more getaway ideas? Check these out.
---
Image credit: